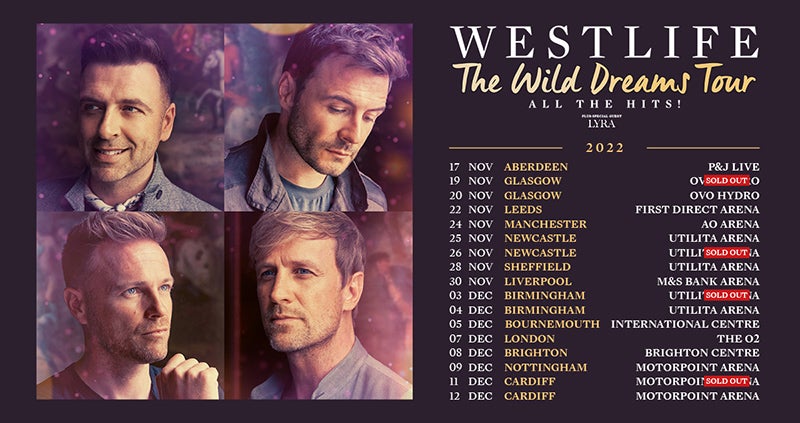 Nov 11, 2022
Spotlight On Westlife
We're flying without wings at the thought of Westlife returning to the OVO Hydro this month for two glorious evenings of pop hits. The music icons will be performing their greatest hits plus fresh pop anthems from their latest album Wild Dreams. To celebrate the return of one of the most successful musical groups of all time, we take a look back at Westlife throughout their music career and their journey so far.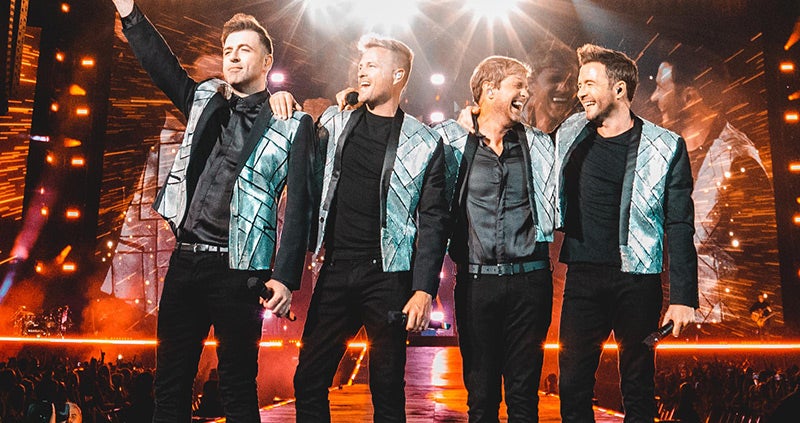 How it all began…
Three guys named Kian Egan, Mark Feehily and Shane Filan performed in their school musical together in the 1990's and decided to form a band with three other members calling themselves I.O.YOU. After some success with their first single release in 1997, Louis Walsh agreed to become their manager with the help of Ronan Keating as their co-manager. The lineup of I.O.YOU was changed – three of the original members left and auditions were held to find the two new members of the group, Nicky Byrne and Bryan McFadden.
Westside on tour
They changed their name to Westside and went on to support Backstreet Boys at their Dublin show and toured the UK and Ireland with Boyzone in late 1998. Early in 1999 the group discovered a number of existing bands shared the name 'Westside'. As a result the name of the band was changed again, and Westlife as we know today were born. Their first single as Westlife Swear It Again went straight to the top of the British and Irish charts, becoming the biggest-selling debut single ever in Ireland.
A success story
Westlife released their eagerly-awaited self-titled debut album in 1999 which was a massive success. They won Record of the Year for Flying Without Wings in 1999, and My Love the following year. Winning numerous awards, Westlife achieved much acclaim and enjoyed a lot of success, breaking records seemingly as fast as they set them.
2002 saw the group release their first Greatest Hits album, and their subsequent album, Turnaround, went straight into the charts at number one in November 2003.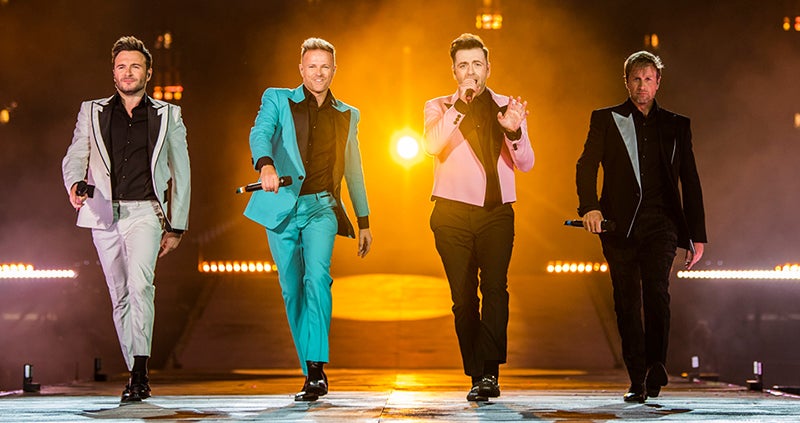 When five becomes four
March 2004 saw a new chapter begin for the group as Bryan McFadden announced his departure from the band. He cited his desire to spend more time with his young family as the reason he left – the band described his departure from the band as "amicable". Westlife carried on as a four-piece and continued to make chart history - by 2007 they had achieved a massive fourteen number ones in the UK!
We were on a break
In October 2011, Westlife officially announced they were splitting up. They released a second Greatest Hits album in 2012, followed by a farewell tour. The band stated that they wanted a "well-earned break" after 14 years of making hits and touring. All four members spent time creating their own solo careers in music, TV, radio, and more, in addition to spending much needed time with family and friends.
Westlife reunion, 20th anniversary and beyond…
After six years apart from the band, Shane, Mark, Nicky and Kian announced their return to Westlife and signed a new record deal in October 2018. The group then celebrated their 20th anniversary in 2019 with a record-breaking tour to fans across 27 countries. They also released Spectrum in November 2019 which featured eleven brand new tracks.
In 2021, the group announced their biggest ever gigs to date for their 2022 – 2023 tour in support of their latest album Wild Dreams. As one of the best selling groups of all time, Westlife have shown they are still as popular as ever with huge sold out dates across their tour. We can't wait to welcome them back to the OVO Hydro on the 19th and 20th of November.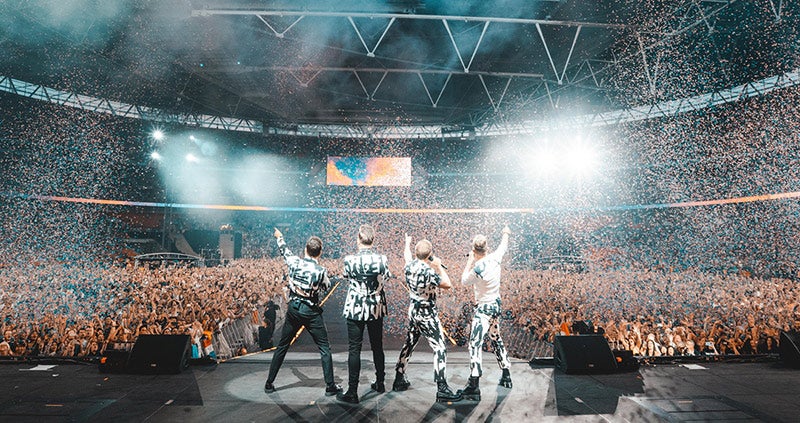 Never miss out! Sign up to our newsletter