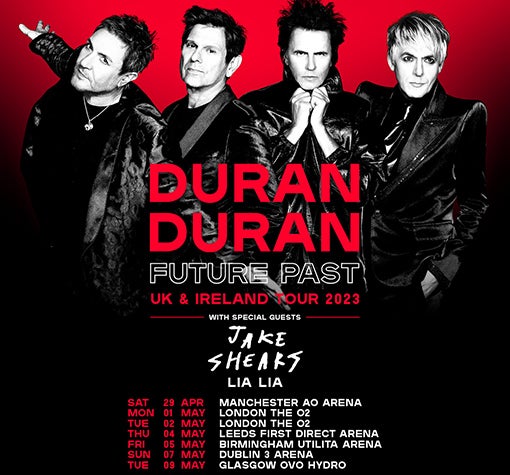 May 2, 2023
One Week Until Duran Duran: Sneak Peek + Fun Facts
Duran Duran celebrated a landmark year in 2022. The band were recently inducted into the Rock & Roll Hall Of Fame, a career peak that followed a live summer season of epic proportions - headlining London's Hyde Park, performing at the Queen's Platinum Jubilee Concert, closing the opening ceremony of the Commonwealth Games, a headline tour across North America, and the cinematic release of new docu-concert film, 'A Hollywood High'. All this after the huge success of new album FUTURE PAST, hailed as Duran Duran at their best by critics and fans alike, four decades into their rich and storied career.

The band are playing seven headline UK shows this spring. The tour kicked off in Manchester on the 29th April, which received rave reviews, followed by two shows in London on the 1st and 2nd of May. On the first night of the UK tour in Manchester, the 80's icons delivered an expansive, hit-packed celebration of 40 years in music, playing some of their most beloved songs including Wild Boys, Hungry Like The Wolf, Notorious, Ordinary World, The Reflex and A View To A Kill.

The crowd were not disappointed during this incredible show, which featured state of the art augmented reality technology, and fans were treated to more hits like Last Chance On The Stairway and Night Boat, as well as highlights from their newest album, FUTURE PAST. You can have a sneak peek at the setlist from their Manchester date to see what epic tunes they might have in store for the rest of the UK shows.

Duran Duran's headline arena tour continues with dates in London, Leeds, Birmingham, Dublin and our very own OVO Hydro in Glasgow on the 9th of May. You can still snap up the last remaining tickets here. Scissor Sisters frontman and solo artist Jake Shears is also joining Duran Duran as a special guest opening act at the concerts along with Lia Lia.
5 Fun Facts You Might Not Know About Duran Duran

1. SIMON LE BON STARTED HIS CAREER IN THEATRE AND TV
Before he made it big with Duran Duran, frontman Simon Le Bon embarked on an acting career when he was young. He appeared in a Persil soap TV advert (amongst others) and made his West End theatrical debut in Tom Brown's Schooldays.

2: FOR TWO DECADES, THEY WERE THE ONLY JAMES BOND THEME CHART CHAMPIONS
Paul McCartney And Wings couldn't manage it; Carly Simon came close; and Shirley Bassey tried three times, but, across the first two decades of the James Bond film franchise, none of its themes made it to No.1 on the transatlantic singles charts… until Duran Duran. Recorded for the 1985 Bond film of the same name, A View To A Kill made it to the top of the charts in the US and peaked at No.2 in the band's homeland (it wouldn't be until 2015 and Sam Smith's Writing's On The Wall that the UK would crown a Bond chart-topper).

3. THEY HAD THEIR OWN BOARD GAME
At the height of their 1980s fame, Milton Bradley released the Duran Duran board game 'Into The Arena', the title drawn directly from their hit live album from 1984 and released in conjunction with the 1985 video version. Designed for two to four players, the objective was to collect video cards and band member cards to accumulate as many points as possible.

4: THERE'S A "LOST" DURAN DURAN ALBUM WE'VE YET TO HEAR
After the strong comeback of 2004's Astronaut, plans inevitably focused on a follow-up with writing and recording taking place in late 2005. Duran Duran submitted a rough cut to their label of a new record, called Reportage, and continued to record further tracks for the project. Sessions were scheduled with producer Timbaland, and Justin Timberlake was approached to guest, but the band had hit a crossroads, with Andy Taylor deciding to step down. 'Reportage' was shelved but there are rumours that the band now plan to finish and release it. We live in hope!

5. THE BAND ALMOST SPLIT IN 1985
When a band has been together for a long time, chances are that they will have seen at least one significant lineup change over the years. Duran Duran have been around for almost half a century, so it only makes sense that band members have switched out and been replaced in that time. In 1985 the band essentially split in two, with John and Andy Taylor breaking away to form The Power Station, and Simon Le Bon and Nick Rhodes forming Arcadia. Drummer Roger Taylor played the drums for both of them as and when required. Le Bon, Rhodes, and John Taylor eventually regrouped as Duran Duran in 1986, with Roger Taylor joining again in 2001, and the band has now strengthened into a core line-up of the remaining four members.
Not got your tickets yet? We still have limited tickets for Duran Duran's OVO Hydro show on the 9th of May.

Buy Tickets