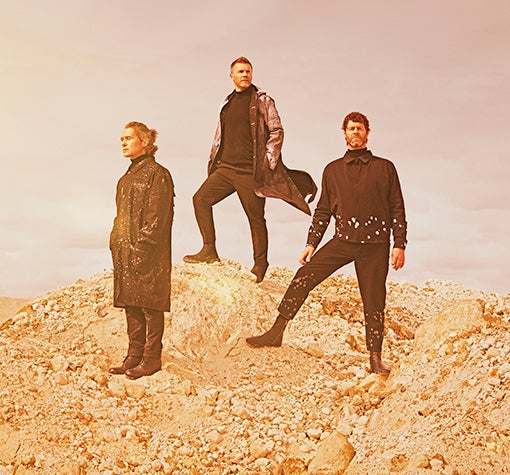 Apr 18, 2023
On This Day: Take That Edition
In 2019, Take That celebrated their 30th Anniversary with a greatest hits album, 'Odyssey', and a tour which took fans on a retrospective journey through 30 years of monster pop hits, including a mammoth 25 song setlist. The tour of the UK, Ireland and Europe saw the group play 53 shows in many towns and cities, including 3 sold-out shows at the OVO Hydro on the 18th, 19th, and 20th of April 2019. We take a look back at these epic shows and the legendary achievements of one of the UK's favourite pop bands of all time.
Take That's 'Odyssey' album has 27 tracks spanning three decades of the band's history from their 1992 debut 'Take That and Party', right up to its release in 2018. The album also featured some brand new tracks to continue what is easily one of the greatest British pop stories ever told. It goes without saying that the boys' back catalogue is brimming with bangers, and narrowing down some 41 singles into a setlist was no easy task.
One thing Take That has never been is predictable, from the themes of the albums, to the epic productions around their live shows. The group are known for their insanely-slick stage shows which are unrivalled in pop; a reign upheld on the Greatest Hits Live tour. The show centred around a giant 30 tonne orb - a reimagining of their iconic logo seen throughout the Odyssey campaign. Also included in the production were Harley-Davidson motorcycles, pyrotechnics galore, a B-stage at the back of all the venues to give fans an extra surprise, and not forgetting the energetic dancers in amazing costumes.

Another one for the fans, the band included tributes to past members Robbie Williams and Jason Orange. Formed as a five piece in 1989, they enjoyed colossal success with their first three albums. The departure of band member Robbie Williams prompted a break up in 1996 before the other four members reunited in 2005. This sparked one of the greatest comebacks in British music history with Take That going on to release three No.1 albums in just four years. Robbie's return for 2011's 'Progress' saw them break the record for the fastest selling album of the 21st century and fastest selling tour of all time in the UK. Williams' second departure, along with that of Jason Orange left the remaining three members to continue the legacy of one of the most successful bands in British chart history.

Gary Barlow, Howard Donald and Mark Owen, Take That as we know them now, have an unmatched ability to create relevant, timeless pop music. Their journey from the early '90s to now provides the perfect escapism we never knew we craved. Their Greatest Hits Live Tour will always be remembered as a show packed with nostalgia, and immense new highs, which proves Gary, Howard and Mark still haven't hit their peak. We can't wait to see what the band has up their sleeves next!
Be the first to know!
Get all the latest show announcements, extra dates and ticket releases for upcoming shows, special ticket offers and promotions straight to your inbox.