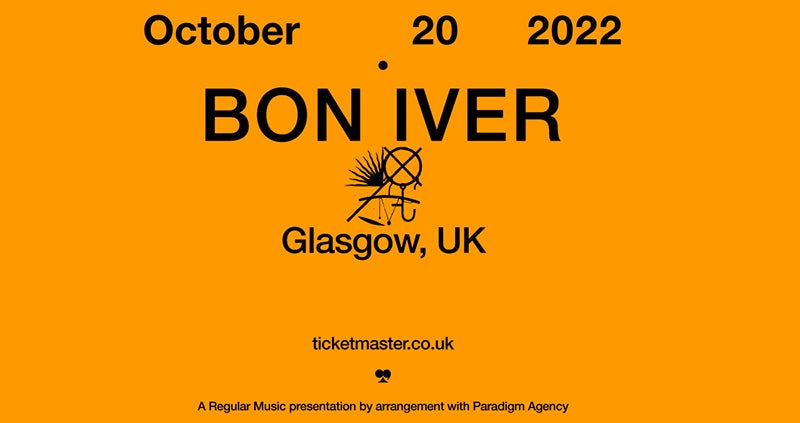 Oct 13, 2022
Spotlight on Bon Iver
Everyone's favourite indie folk band are heading to the OVO Hydro, and we can't wait!
This month, Bon Iver's long-awaited world tour is heading to the UK and will be hitting the OVO Hydro on 20 October 2022. After the postponed tour in 2020, fans are now finally having their chance to see their favourite indie folk band up close and personal.
The i,i Tour is in support of Bon Iver's fourth studio album i,i., and is set to share their latest songs and of course, those classic hits that we all know and love. Pitchfork shared their take on the album "Justin Vernon reassembles the familiar Bon Iver elements like a cubist collage, with his voice fearlessly front and centre. The result is his most honest and forthright music ever."
So, in anticipation of their show, we have 5 pretty impressive facts that we think you should know about Bon Iver.
5 Facts about Bon Iver:
1. In 2006, Justin Vernon founded the American indie folk band, now known as Bon Iver.
2. Bon Iver's debut album "For Emma, Forever Ago", was written by Justin Vernon while completely isolated for four months in his father's cabin, in a secluded area of Wisconsin. The first song to be released from the album was "Skinny Love".
3. The name Bon Iver was derived from the French phrase "bon hive", meaning "good winter", which was taken from a greeting heard on the American comedy-drama tv series Northern Exposure.
4. Bon Iver featured in Taylor Swift's Folklore album, as well as co-writing and performing "Exile".
5. In 2012, Bon Iver won a Grammy for Best Alternative Album, pipping Radiohead, Death Cab for Cutie, Foster the People and My Morning Jacket to the post.
Sign Up To Our Newsletter
Get all the latest show announcements, extra dates and ticket releases for upcoming shows, special ticket offers and promotions straight to your inbox ⬇️