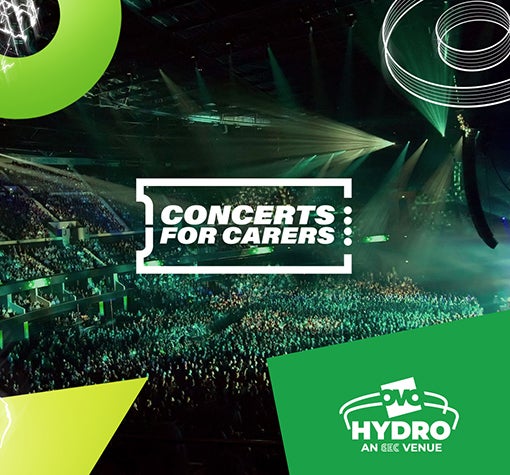 Apr 18, 2022
Concerts for Carers
The Scottish Event Campus (SEC) is proud to announce a new partnership with Concerts for Carers, a charity which provides all eligible NHS staff and paid carers a chance to access free concert tickets.
A Proud Partnership for the SEC
Debbie McWilliams, Director of Live Entertainment at SEC, said: "We all owe our NHS and paid care staff a tremendous debt of gratitude for the work they have done and continue to do, and we are delighted to be able to support Concerts for Carers by giving back to them in this way."
Mark Lambert, Co-Founder of Concerts for Carers, added: "We are delighted to be partnering with the SEC who are generously providing sets of tickets to all of the shows at the Scottish Event Campus. NHS and paid care staff registered with Concerts for Carers will be able to enter a ballot and those successful will secure tickets for FREE.
Partnering with the SEC is instrumental in helping us further our mission throughout the UK in recognising and giving thanks for those who are there for us when we need it most."
Who Are Concerts for Carers?
Founded by former music venue executives, Concerts for Carers, together with O2, is a registered charity created to promote the mental health and wellbeing of NHS staff and paid Care workers, particularly – but not exclusively – by providing access to free music tickets all year round. And to do so on a permanent basis, providing a legacy that endures not only for those who have worked so hard to keep the country safe, but for future beneficiaries in the years to come.
Since its launch, Concerts for Carers has seen 25,000 NHS and paid Care workers register to enter for tickets to over 250 shows. Together with O2, more than 2,250 tickets worth over £155,000 have been given away for top music concerts such as Stormzy, Liam Gallagher, Tom Jones, Elton John, Sean Mendes, Justin Bieber and Queen and Adam Lambert and many others.

How Does the Scheme Work?
NHS and paid Care workers can sign-up via www.concertsforcarers.org.uk
Once registered on the website, NHS staff and paid Care workers can apply for shows that they would like to attend. All requests will be entered into a ballot. Recipients will then be notified if they have won tickets to their preferred events.

How Can I Get Involved?
Having now secured agreement from some of the UK's leading live music destinations, including The O2, the organisation is looking for £100,000 to achieve its goal. Eligible beneficiaries can register now at www.concertsforcarers.org.uk. Those that wish to contribute towards this fantastic initiative and be part of creating something that truly honours NHS workers and paid carers, please visit https://www.justgiving.com/concertsforcarers.