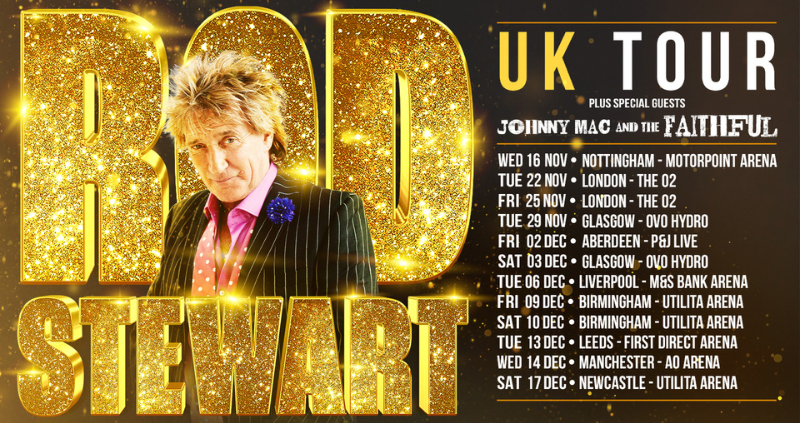 Nov 24, 2022
So, You Think You Know Rod Stewart?
Everyone's favourite showman and international rock legend… need we say more? Sir Rod Stewart CBE! Will be rockin' and rollin' his way to the OVO Hydro.
Following the success of his previous sold-out tours, Rod's 2022 shows promise to be filled with show-stopping classics and new hits in his unmissable captivating style. Rod has two days set to appear at the OVO Hydro, 29 Nov 2022 and 03 Dec 2022, so if you haven't yet got your tickets, click here to secure yours today. Don't miss a night to remember!
To celebrate, we have 10 quiz questions below covering Rod's career and life to date, how many can you get right! Okay superfans, now is your chance to shine! How much do you really know about Rod Stewart?
QUIZ TIME
Which band did Rod Stewart begin his musical career as a harmonica player?
When did Rod Stewart first perform at the OVO Hydro?
How many records has Rod sold worldwide?
What was Rod's first hit song?
What year was Sir Roderick Stewart CBE knighted for his services to music and charity?
When did Rod's music career begin?
What is Rod Stewarts connection to Scotland?
What is Rod's full name?
What year was Rod Stewart inducted into the Rock and Roll Hall of Fame as a solo artist?
What is Rod's star sign?
Let us know on our social media channels how many you guess right with a green heart!
Sign Up To Our Newsletter
Get all the latest show announcements, extra dates and ticket releases for upcoming shows, special ticket offers and promotions straight to your inbox ⬇️