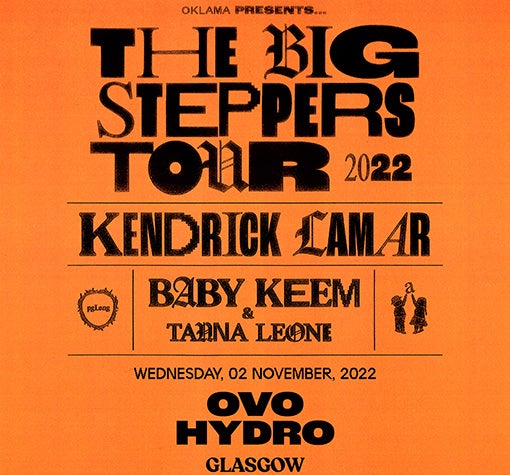 Oct 14, 2022
So You Think You Know Kendrick Lamar?
Multi-Platinum, award-winning artist Kendrick Lamar will take to the stage at the OVO Hydro on the 2nd of November for 'The Big Steppers Tour' in support of his latest album Mr. Morale & The Big Steppers.
To celebrate the opening night of Kendrick Lamar's UK shows here in Glasgow next month, we're challenging you to the ultimate superfan quiz! It's time to test your knowledge and find out how much you really know about the successful American rapper.
Take our Kendrick Lamar Superfan Quiz!
What is Kendrick Lamar's real name?
In what year was Kendrick Lamar born?
Where is Lamar originally from?
What other name was he known as while he was first starting out as a rapper?
Lamar produced, curated, and performed on the soundtrack album for which superhero movie released in 2018?
Which rock band feature on the track 'XXX' from Kendrick's album DAMN?
Which record label did he sign to in 2004?
How many Grammy Awards does Kendrick Lamar currently have?
In which TV series did Lamar make a guest acting appearance in 2018?
Kendrick Lamar won the Pulitzer Prize in 2018, but what made this win particularly significant?
See how well you did and check the answers HERE
Sign Up To Our Newsletter
Get all the latest show announcements, extra dates and ticket releases for upcoming shows, special ticket offers and promotions straight to your inbox ⬇️