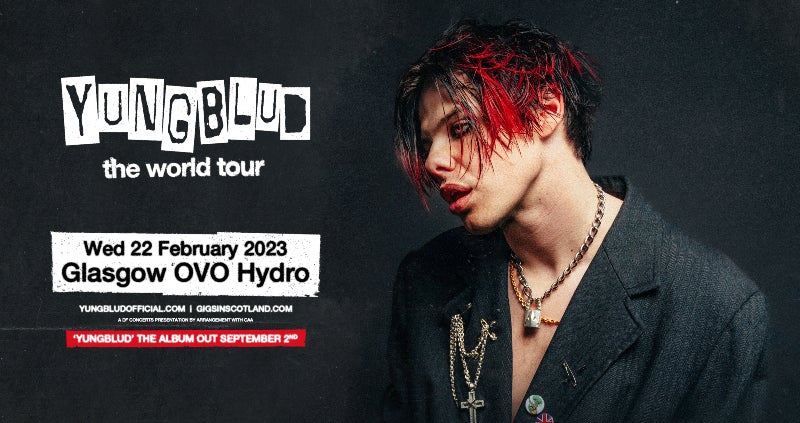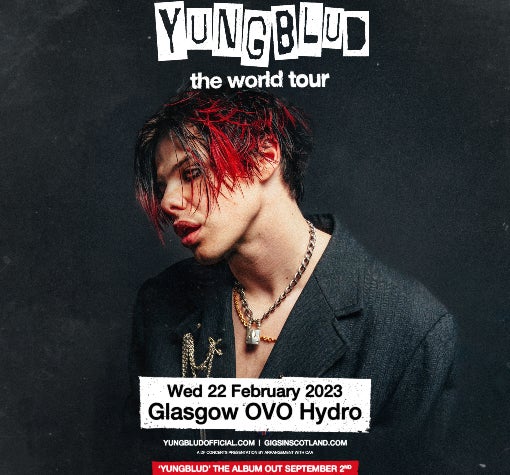 22 Feb

/ 23

DOORS: 6.30pm

Showtimes will be released approximately 3 days before the date of the event.
*Event timings issued are a guideline only and may be earlier or later than originally published.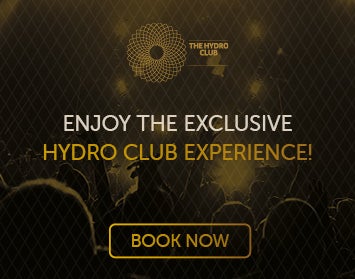 Internationally acclaimed, multiple- award winning British musician YUNGBLUD has announced 'YUNGBLUD, the world tour', with headline dates across the UK for February 2023. Supporting YUNGBLUD, British pop-punk band Neck Deep will be special guests across UK dates only.
The announcement comes ahead of the release of YUNGBLUD's highly anticipated self-titled third studio album [Locomotion/Polydor Records], which will be released on September 2nd. The album features previously released fan favourites 'The Funeral,' 'Don't Feel Like Feeling Sad Today,' and 'Memories' Ft. Willow. The recently announced YUNGBLUD DELUXE BUNDLES will feature his latest ferocious single 'The Emperor', which was selected as the official 2022 anthem for ESPN's College Football Season.
Throughout this tour, YUNGBLUD will be teaming up with Show Support, to offer specialist mental health support for fans attending the concerts. The aim is to provide a safe space for fans at shows, with access to qualified mental health professionals to help with any experiences related to panic attacks, anxiety, or other mental health related concerns. Fans will be able to access this support before, during and after the shows. During the shows, a safe space, fully equipped with qualified councillors, alongside a helpdesk to answer any questions will be available. This support will expand beyond the arenas, with a dedicated email helpline being established to answer any queries related to mental health from YUNGBLUD fans before, during and after the show.
Covid-19 Customer Update

For more information on COVID safety measures in place and what can be expected when you attend events, please check here.

Digital Tickets

Your mobile is now your ticket.

Delivering the best purchase experience, digital tickets removes the inconvenience of visiting the box office in person or making a call to book. Purchase via ovohydro.com or sec.co.uk and your tickets will be delivered straight to your device, when available. Your tickets will be stored in your TM account and can be accessed via the TM mobile app.

No more worrying if tickets will arrive in the post or hoping you get them in time for that important gift. The stress of losing or forgetting your tickets will be replaced with the confidence of knowing that they are stored securely on your device and are available for you at any time.

Transfer tickets quickly and easily to all members of your party, giving you the freedom to plan your journey to the venue. No need for everyone to arrive together or wait for that friend who is held up.

For more information about digital tickets, please click here.

Accessible Ticket Booking

Customers who wish to buy tickets for accessible positions can do so online via our websites (ticketing powered by Ticketmaster), or by using our accessible booking line on 0141 576 3230 (replaces 0800 952 0110 temporarily) (open Mon-Fri 9am-2pm).

YUNGBLUD X SHOW SUPPORT

Throughout his February 2023 arena tour, Yungblud is teaming up with Show Support to offer specialist mental health support to fans attending the concerts. The aim is to provide a safe space for his fans at the shows, with access to qualified mental health professionals to help with any experiences related to panic attacks, anxiety, or other mental health related concerns.

How will this work?

Fans will be able to access specialist mental health support from a team at each venue before, during and after the show. A safe space will be provided which is fully equipped with qualified councillors to support those experiencing emotional distress. A helpdesk will be located on the concourse to answer any questions or concerns on this night and signpost to the safe space. An email helpline will also be available to answer any queries before and after the show.

Key Components:

Safe Space: A dedicated area within each arena for fans to take time out, work through any emotional distress and speak with a qualified mental health professional.
Helpdesk: A stand located in the concourse of each arena where fans can have a friendly chat to a qualified member of staff about this offering or ask any other mental health related questions.
Helpline: A dedicated email helpline available to Yungblud's fans before, during and after the show to answer any mental health questions or concerns.

Helpline Contact:
22 Feb / 23

£34.15 - £51.20
(inc admin fee) + fulfilment

Ticket limit: 6 per person

Standing: Over 14s / Under 16s with adult, Seating: 8+, Under 16s with adult 18+