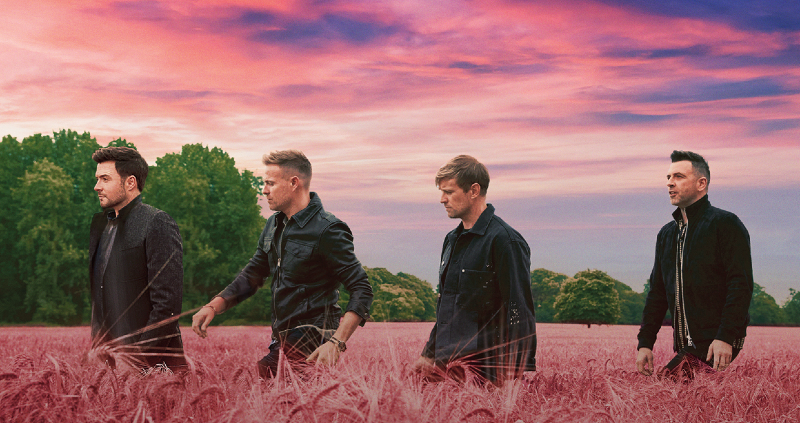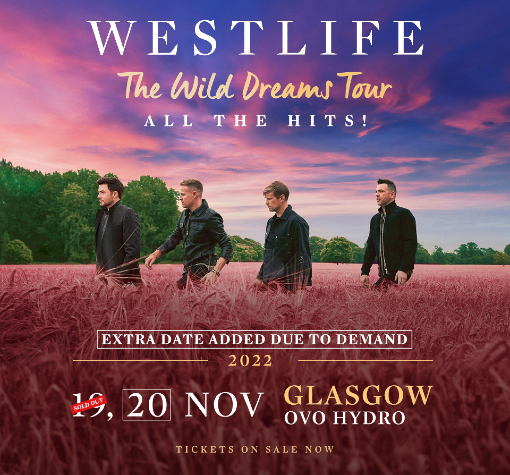 19 Nov

/ 22

Showtimes will be released approximately 3 days before the date of the event.

20 Nov

/ 22

Extra Date Added
*Event timings issued are a guideline only and may be earlier or later than originally published.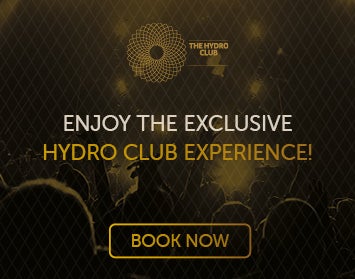 WESTLIFE ANNOUNCE 2022 'THE WILD DREAMS' TOUR
MUSIC ICONS WILL PERFORM AT THE UK'S BIGGEST ARENAS IN 2022

PERFORMING THEIR GREATEST HITS 'SWEAR IT AGAIN', 'FLYING WITHOUT WINGS' AND 'WORLD OF OUR OWN' AS WELL AS, FRESH POP ANTHEMS FROM THEIR HIGHLY ANTICIPATED UPCOMING NEW ALBUM 'WILD DREAMS'.
The UK's biggest-selling album group of the 21st century, Westlife, today announce an extensive 2022 tour as their sensational return to music continues.

Westlife will once again be hitting the road next year, following their record-breaking 2019 reunion tour which saw Shane, Nicky, Mark and Kian play to over 600,000 fans across 27 countries. The Irish pop kings kick off their tour next summer performing across the U.K.
The Wild Dreams Tour will see Westlife get closer to their fans than ever before, as they belt out all of their greatest hits 'Swear It Again', 'Flying Without Wings' and 'World of our Own' as well as, fresh pop anthems from their new album 'Wild Dreams'.
The Band say: "We are incredibly excited to announce news of The Wild Dreams Tour and to finally get back performing to all of our fans at the UK's biggest arenas."
"After the last 18 months, this tour means more to us than any that we've ever done before. It will be a massive celebration and will bring us closer to our fans than ever before. We're planning some spectacular shows which will include all of our greatest hits and some special surprises."
News of the 2022 tour marks the beginning of a packed schedule for Westlife who have just released their new single 'Starlight' - the first track of the highly anticipated new album 'Wild Dreams' which is available for pre-order now.
Shane, Nicky, Mark and Kian have established themselves as the world's biggest band of the 21st century, having sold over 55 million records worldwide and are the only band to have their first seven singles enter the UK chart at No.1. They also have the most singles of any artist to debut at No.1 in the UK. Overall the band have had an incredible 14 No.1 singles, behind only Elvis Presley and The Beatles. They have had 33 No.1 albums worldwide and as a live act they have sold five million concert tickets worldwide and
counting.
Important Ticket Information

Please note: The SEC Box office is temporarily closed. We are currently processing all ticket purchases online rather than at the SEC Box Office for the foreseeable future.

Accessible tickets can be booked online, or you can call 0141 576 3230 (replaces 0800 952 0110 temporarily) (open Mon-Fri 9am-2pm).

COVID-19 Safety Requirements

Admission to this event is at all times subject to the promoter (Live Nation) and venue operator's terms and conditions. Please ensure you read and accept these terms before purchasing tickets, in particular those relating to safety measures implemented to combat the spread of COVID-19, which may include (i) requesting that audiences demonstrate their COVID-19 status by providing proof of full vaccination, except for those who are exempt, and/or (ii) any other entry requirements mandated by government. The promoter and venue reserve the right to refuse admission to the event for failure to comply with such requirements and you will not be entitled to a refund.

For more information on COVID safety measures in the venue and what can be expected when you attend events, please check here.

Digital Tickets

Your mobile is now your ticket.

Delivering the best purchase experience, digital tickets removes the inconvenience of visiting the box office in person or making a call to book. Purchase via OVOhydro.com or sec.co.uk and your tickets will be delivered straight to your device, when available. Your tickets will be stored in your TM account and can be accessed via the TM mobile app.

No more worrying if tickets will arrive in the post or hoping you get them in time for that important gift. The stress of losing or forgetting your tickets will be replaced with the confidence of knowing that they are stored securely on your device and are available for you at any time.

Transfer tickets quickly and easily to all members of your party, giving you the freedom to plan your journey to the venue. No need for everyone to arrive together or wait for that friend who is held up.

For more information about digital tickets, please click here.

Accessible Ticket Booking

Customers who wish to buy tickets for accessible positions can do so online via our websites (ticketing powered by Ticketmaster), or by using our accessible booking line on 0141 576 3230 (replaces 0800 952 0110 temporarily) (open Mon-Fri 9am-2pm).