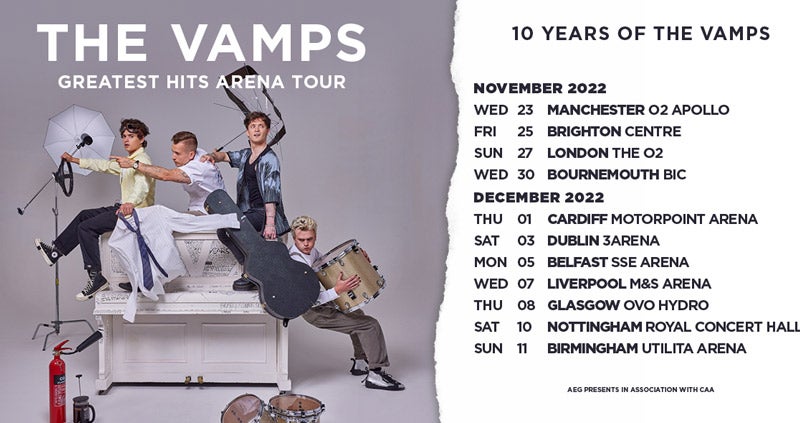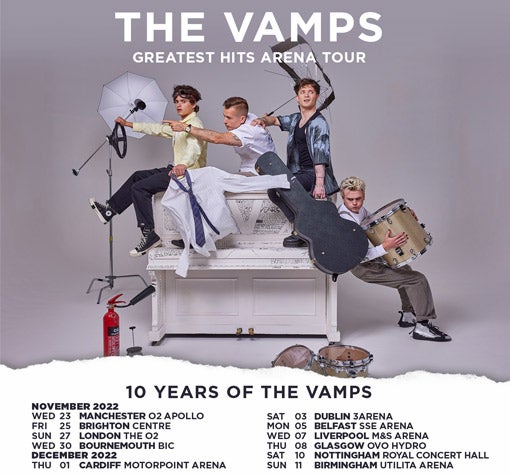 The Vamps
Greatest Hits Tour
8 Dec

/ 22

DOORS: 6.30pm

Showtimes will be released approximately 3 days before the date of the event.
*Event timings issued are a guideline only and may be earlier or later than originally published.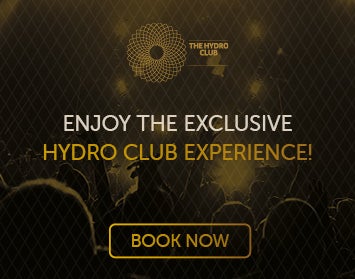 10 Years Of The Vamps The Greatest Hits Tour
Coming through the UK and Ireland in November and December
A special anniversary fanzine compiled by the fans and band to be released 14 October.
From posting videos in 2012 on YouTube that brought the band together (see some of those early videos here /here ) to multiple arena tours and number one albums… It's been a whirlwind decade for The Vamps…
They have generated over 6 billion streams and…
Over two billion views on the bands YouTube channel alone
They have released five albums, two #1's
2017's 'Night & Day (Night Edition)' and their latest album (2020) 'Cherry Blossom' - and two #2's
2014's 'Meet the Vamps' and 2018's 'Night & Day (Day Edition)' - They have played global tours and festivals that has seen them play to over 2 million people - They became the first band to headline The O2 five years in a row
They've played on the biggest US chat shows like Ellen and Seth Myers
Amongst others, they have collaborated with Shawn Mendes, Demi Lovatto, Sigala, Krept & Konan, Tini, Matoma, Bruno Mars and many more!
Played and shared stages with Coldplay, Jay Z, Taylor Swift, Kings Of Leon, Weezer, Ed Sheeran, Pharell Williams, Sam Smith
They've created their own festival - The Vamps Weekender in Barcelona
They've drunk shots with Dave Grohl backstage, hung out with Sean Paul at Woodstock, been held at gunpoint at airports, played for royalty (and put hot drinks on priceless tables and carried muddy football boots through their houses!)
There's also been ice skating competitions, jungles, driving lessons and dating shows!
It's time to celebrate! The Vamps…
"It's crazy to think what started in our bedrooms and Tristan's parent's garage led to us headlining arena's all around the world. The past 10 years have been an incredible journey but what makes it even more special is that it has felt like a shared one between us and our fans. The Vamps have taken us across all five continents and given us the privilege of playing in front of millions of people. These five albums are chapters in our lives and moments we are hugely proud of. This last year has been one of reflection for us and as four best friends who've had the chance to live out our dreams we now can't wait to celebrate these memories with you all."
Kicking off in Manchester at the O2 Apollo on 23 November, the 10 Years Of The Vamps - The Greatest Hits Tour will see the band perform all the hits from across the decade that has made them become one of the most loved and celebrated pop bands in the UK.
COVID-19 Customer Update

For more information on COVID safety measures in place and what can be expected when you attend events, please check here.

Digital Tickets

Your mobile is now your ticket.

Delivering the best purchase experience, digital tickets removes the inconvenience of visiting the box office in person or making a call to book. Purchase via OVOhydro.com or sec.co.uk and your tickets will be delivered straight to your device, when available. Your tickets will be stored in your TM account and can be accessed via the TM mobile app.

No more worrying if tickets will arrive in the post or hoping you get them in time for that important gift. The stress of losing or forgetting your tickets will be replaced with the confidence of knowing that they are stored securely on your device and are available for you at any time.

Transfer tickets quickly and easily to all members of your party, giving you the freedom to plan your journey to the venue. No need for everyone to arrive together or wait for that friend who is held up.

For more information about digital tickets, please click here.

Accessible Ticket Booking

Customers who wish to buy tickets for accessible positions can do so online via our websites (ticketing powered by Ticketmaster), or by using our accessible booking line on 0141 576 3230 (replaces 0800 952 0110 temporarily) (open Mon-Fri 9am-2pm).

Important Ticket Information

Please note: The SEC Box office is temporarily closed. We are currently processing all ticket purchases online rather than at the SEC Box Office for the foreseeable future.

Accessible tickets can be booked online, or you can call 0141 576 3230 (replaces 0800 952 0110 temporarily) (open Mon-Fri 9am-2pm).
08 Dec / 22

£18.25 - £68.20

(inc admin fee) + fulfilment

Ticket limit: 6 per person

Standing: Over 14s only | Seating: Under 14s with adult (no under 5s)