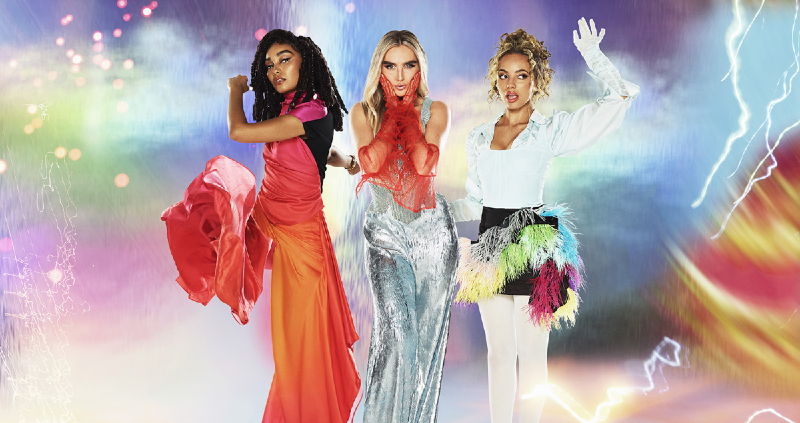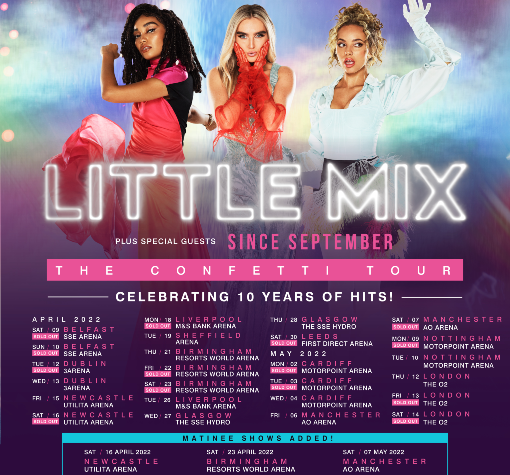 Little Mix
The Confetti Tour
27 Apr

/ 22

DOORS: 18:30

Showtimes will be released approximately 3 days before the date of the event.

28 Apr

/ 22

DOORS: 18:30

Showtimes will be released approximately 3 days before the date of the event.
*Event timings issued are a guideline only and may be earlier or later than originally published.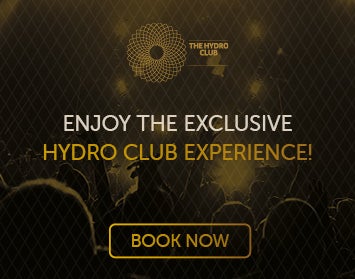 Little Mix, originally scheduled to play The OVO Hydro on 24 and 25 May 2021 will now take place on 27 and 28 April 2022. Original tickets remain valid for these new dates.
A message from the organiser:
Due to the current Coronavirus outbreak and the government measures implemented to limit its spread, the Little Mix May 2021 tour has been postponed.
The rearranged dates will instead take place in April 2022. Customers are advised to keep hold of their tickets as they will be valid for the rescheduled dates.
Please see artist website and social media for further statement.
A message from the Artists:
You know how much we love being on the road and performing every night for you all. However, due to the ongoing Coronavirus pandemic, we must prioritise the safety of our fans and crew and help to stop the spread.
Therefore we're so sad to say that the Confetti tour will be postponed to April 2022. All tickets will be valid for the corresponding rescheduled dates.
We can't wait to see you when it is safe to do so!
Lots of love
The girls x
Little Mix have chosen to partner with both Black Minds Matter UK and Nordoff Robbins Music Therapy. £1 (€1 in Eire) of the ticketing fees (per ticket) will be distributed between them equally (subject to VAT).
Black Minds Matter UK - an organisation that connects Black individuals with free mental health resources in the form of therapy sessions with certified Black therapists www.blackmindsmatteruk.com.
Nordoff Robbins Music Therapy - a charity that uses the power of music therapy to enrich the lives of people affected by life limiting illness, isolation or disability www.nordoff-robbins.org.uk.
COVID-19 Customer Update

For more information on COVID safety measures in place and what can be expected when you attend events, please check here.

VIP Package

Little Mix Best Seat VIP Package
£149.50 + booking fee of £9.90

• Experience Little Mix live from one of the best seats in the house
• Receive an exclusive VIP goodie bag with gifts chosen by Little Mix
• Collect a commemorative VIP show laminate
• Pick up a VIP 2021 Little Mix laminate and lanyard

Stand and Dance

Please Note: Audiences may choose to stand and dance at this performance, if you have any concerns that this may obstruct your view or the view of a member of your party, we would advise you to book tickets in the tiered blocks.

Standing on seats is strictly prohibited.

Important Ticket Information

Please note: The SEC Box office is temporarily closed. We are currently processing all ticket purchases online rather than at the SEC Box Office for the foreseeable future.

Accessible tickets can be booked online, or you can call 0141 576 3230 (replaces 0800 952 0110 temporarily) (open Mon-Fri 9am-2pm).

Digital Tickets

Your mobile is now your ticket.

Delivering the best purchase experience, digital tickets removes the inconvenience of visiting the box office in person or making a call to book. Purchase via OVOhydro.com or sec.co.uk and your tickets will be delivered straight to your device, when available. Your tickets will be stored in your TM account and can be accessed via the TM mobile app.

No more worrying if tickets will arrive in the post or hoping you get them in time for that important gift. The stress of losing or forgetting your tickets will be replaced with the confidence of knowing that they are stored securely on your device and are available for you at any time.

Transfer tickets quickly and easily to all members of your party, giving you the freedom to plan your journey to the venue. No need for everyone to arrive together or wait for that friend who is held up.

For more information about digital tickets, please click here.
27 - 28 Apr / 22

Rescheduled from May 2021

£33.50 - £169.70

(inc admin fee) + fulfilment

No counter sales – see Important Ticket Information tab below.

Accessible Ticket Booking Line:
0141 576 3230 (replaces 0800 952 0110 temporarily) (open Mon-Fri 9am-2pm)

Ticket limit: 6 per person

U14s with adult 18+