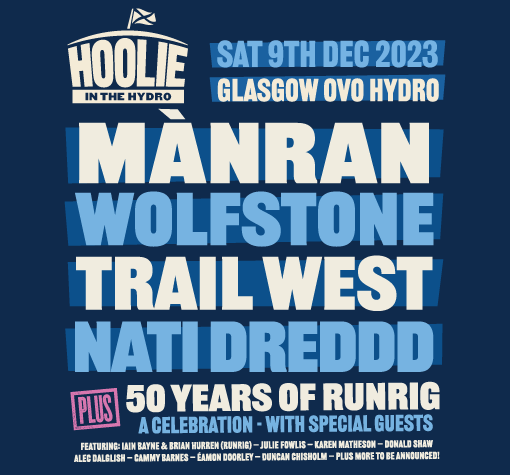 9 Dec

/ 23

DOORS: 6.30pm

Showtimes will be released approximately 3 days before the date of the event.
*Event timings issued are a guideline only and may be earlier or later than originally published.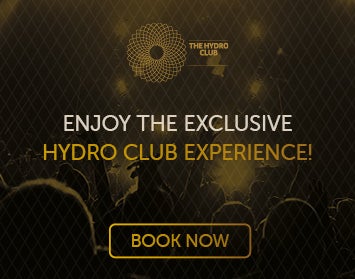 Hoolie in the Hydro returns this December with Special Runrig Celebration
Scotland's biggest night of traditional music, Hoolie in the Hydro, will return to Glasgow this December following the success of last year's inaugural event. With a special celebration of Runrig's 50 years of musical legend, this world-renowned event will once again attempt to make history as the single biggest night of traditional music to have ever taken place in Scotland.
Due to fan demand and overwhelmingly positive feedback from the world-first event last year, Hoolie in the Hydro will return to The Ovo Hydro in Glasgow on Saturday 9th December 2023, with an all-star line-up featuring some of the top names on the Scottish music scene.
Organised by Gary Innes, the line-up for the musical celebration includes Scottish supergroup Mànran, Celtic rockers Wolfstone, festival favourites Trail West, and social media singing sensation Nati Dreddd, plus a special collaboration that will celebrate 50 Years of Runrig, featuring an array of special guests.
The iconic Runrig drummer Iain Bayne will lead the celebration, with legendary singer Julie Fowlis, Wolfstone founding member and fiddle player Duncan Chisholm and Gary Innes, among those joining him on stage to celebrate Runrig's incredible 50th anniversary milestone. The four musicians were last on stage together with the band at Runrig's Farewell Concert in Stirling in 2018. Gary also features on the cover of Runrig's 2007 album Everything You See.
The inimitable Julie Fowlis will also compere the evening, alongside the world-renowned Hebridean Baker, Coinneach MacLeod, who is set to cook up a storm with the Hydro audience, alongside sharing a recipe or two.
Hoolie in the Hydro organiser, broadcaster and musician Gary Innes, said: "The reaction to the first Hoolie in the Hydro was just phenomenal – there was such a party atmosphere on the night and it was incredible to see the reaction from the audience as they watched some of their favourite bands and musicians perform for the first time in our country's largest arena. The amazing feedback and instant demand after the concert showed me that the appetite was very much there to come together to make history once again. So here we are for a second year with a fantastic line-up and I am personally over the moon to get the opportunity from Runrig to celebrate their 50th anniversary. It will be yet another amazing night to remember."
Multi-award-winning group Mànran has been at the heart of the Scottish traditional music scene for over 13-years. Internationally recognised as one of the most iconic and respected Scottish bands on the road today, the seven-piece started 2023 playing the Hogmanay Show on BBC One, alongside Lewis Capaldi, before heading off on a European tour.
Founded in 1989, Wolfstone will take to the Hydro stage for their first Scottish gig since the covid pandemic. Describing themselves as "a rock band from the Scottish Highlands who happen to use bagpipes, flutes and fiddles", their repertoire consists of both original songs and traditional folk tunes. Wolfstone have been mesmerising audiences around the world with their live performances for over three decades.
Returning favourites Trail West are a six-piece powerhouse hailing from the Highlands and Islands. With a loyal following of fans, Trail West have continued to shine selling out some of our countries' biggest venues.
Scottish TikTok sensation Nati Dreddd, who has nearly two million followers across social media platforms, has supported Tidelines, Newton Faulkner and Simply Red alongside selling out solo shows across Scotland.
Julie Fowlis said: "It's so exciting to be part of Hoolie in the Hydro this year. It's a real testament to the strength of the trad scene in Scotland just now and how quickly it's growing, and seeing the demand for events such as this is just fantastic. It's going to be an incredible night!"
Iain Bayne added: "Where better to celebrate 50 years of Runrig's music than at The Hydro, surrounded by some of the finest musicians and the best fans in the world."
The original idea for Hoolie in the Hydro was first sparked in January 2020 after Gary reached 20,000 likes on his Facebook page. To celebrate, he put out a slightly tongue in cheek post which said if half of the people who had 'liked' his page bought a ticket for the Hydro, they could have the world's biggest ceilidh. The likes, shares and support for the idea flooded in, so in early March 2020, Gary went ahead and booked Scotland's largest indoor venue for December 2022. Following the success of the first event, and with growing demand from last year's audience, Hoolie in the Hydro is back again to make history in 2023.
The line-up launch video is available on YouTube here.
Accessible Ticket Booking

Customers who wish to buy tickets for accessible positions can do so online via our websites (ticketing powered by Ticketmaster), or by using our accessible booking line on 0141 576 3230 (open Mon-Fri 9am-2pm).

Digital Tickets

We are launching Safetix on events with mobile ticketing. For more information on Safetix click here.

Your digital tickets are unique to you. They can't be copied, stolen or used as a screenshot and are always stored in your online account, safe and secure, wherever you are.

Your mobile is now your ticket.

Delivering the best purchase experience, digital tickets removes the inconvenience of visiting the box office in person or making a call to book. Purchase via ovohydro.com or sec.co.uk and your tickets will be delivered straight to your device, when available. Your tickets will be stored in your TM account and can be accessed via the TM mobile app.

No more worrying if tickets will arrive in the post or hoping you get them in time for that important gift. The stress of losing or forgetting your tickets will be replaced with the confidence of knowing that they are stored securely on your device and are available for you at any time.

Transfer tickets quickly and easily to all members of your party, giving you the freedom to plan your journey to the venue. No need for everyone to arrive together or wait for that friend who is held up.

For more information about digital tickets, please click here.
09 Dec / 23

£30.10 - £58.45
(inc admin fee) + fulfilment

Standing - OVER 14S/U16S WITH ADULT | Seats - No Restrictions