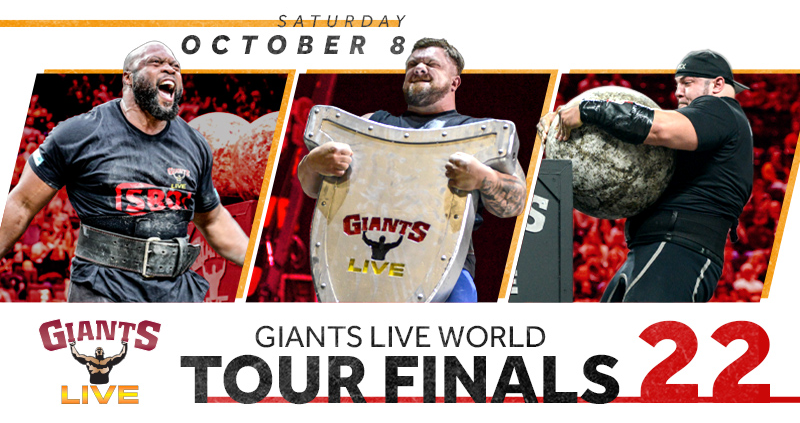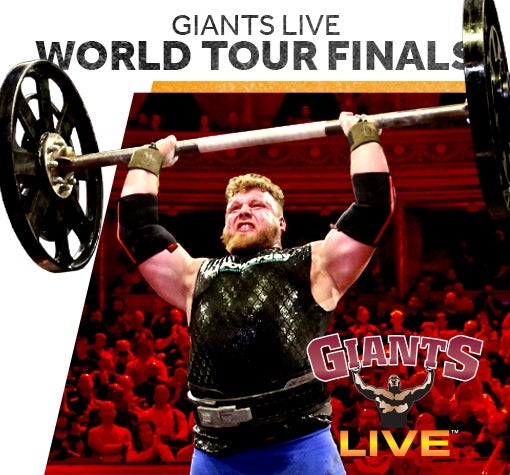 Giants Live World Tour Finals
8 Oct

/ 22

DOORS: 3.30pm

Show time 5pm
*Event timings issued are a guideline only and may be earlier or later than originally published.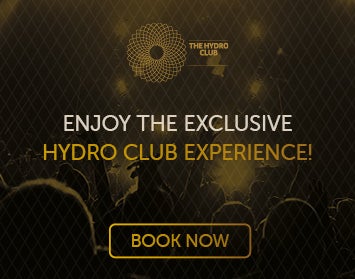 Due to strike action, Scotrail services to and from Exhibition Centre Station will be significantly affected, please plan, and prepare in advance of your journey. Consider alternative means of transport to and from events during this period. Click Learn More for further rail information.
Learn More
Giants Live announces 2022 tour dates - with exciting new team show

On the back of a hugely successful 2021, the Giants Live World's Strongest Man Arena Tour is launching into 2022, bigger, better – and stronger than ever!

The 2022 Tour is bringing big stage arena strongman to new cities, with new show formats and what promises to be another massive year in the juggernaut that is the sport of strongman!

Brand new for 2022, the tour will feature a completely different show format for Giants Live – The World's Strongest Nation at the M&S Bank Arena in Liverpool. This team event will see the World's Strongest Women join the stage alongside the World's Strongest Men!

The excitement kicks off on 26th February 2022 with Britain's Strongest Man and will stop at 7 of the UK's biggest arenas, starting with the Utilita Arena in Sheffield, then visiting Leeds, London, Cardiff, the Arnold Sports Festival UK in Birmingham, Glasgow, and finishing with the team event finale in Liverpool.

Darren Sadler, Giants Live Director, said:
"After the lockdowns in 2020, everyone was just happy to come back, so to be able to put on a full 6-show tour in 2021 and see strongman fans really getting behind the athletes again - it was something special. In 2022, we're adding two new arenas that we've never been to before (Cardiff and Liverpool). As well as that, we're also launching a really exciting new team event called World's Strongest Nation where we'll have the World's Strongest Women getting involved as well. Our goal at Giants Live is always to keep growing the sport and making things bigger and better - and that's exactly what we'll be doing in 2022."

The world's biggest and best strongman athletes will be joining the tour, including the likes of World's Strongest Brothers Luke Stoltman and Tom Stoltman, 55-year old strongman legend Mark Felix, USA's Evan Singleton, Iron Biby, and a host of international strongman superstars - all competing for their place at the World's Strongest Man finals.

As the official World's Strongest Man qualifying tour, the competitions will be filmed for Channel 5 for its World's Strongest Man series. Jaw-dropping, inspirational and larger than life - this is live strength sport and entertainment at its absolute biggest and best.
Important Ticket Information

Please note: The SEC Box office is temporarily closed. We are currently processing all ticket purchases online rather than at the SEC Box Office for the foreseeable future.

Accessible tickets can be booked online, or you can call 0141 576 3230 (replaces 0800 952 0110 temporarily) (open Mon-Fri 9am-2pm).

COVID-19 Customer Update

For more information on COVID safety measures in place and what can be expected when you attend events, please check here.

Digital Tickets

Your mobile is now your ticket.

Delivering the best purchase experience, digital tickets removes the inconvenience of visiting the box office in person or making a call to book. Purchase via ovohydro.com or sec.co.uk and your tickets will be delivered straight to your device, when available. Your tickets will be stored in your TM account and can be accessed via the TM mobile app.

No more worrying if tickets will arrive in the post or hoping you get them in time for that important gift. The stress of losing or forgetting your tickets will be replaced with the confidence of knowing that they are stored securely on your device and are available for you at any time.

Transfer tickets quickly and easily to all members of your party, giving you the freedom to plan your journey to the venue. No need for everyone to arrive together or wait for that friend who is held up.

For more information about digital tickets, please click here.

Accessible Ticket Booking

Customers who wish to buy tickets for accessible positions can do so online via our websites (ticketing powered by Ticketmaster), or by using our accessible booking line on 0141 576 3230 (replaces 0800 952 0110 temporarily) (open Mon-Fri 9am-2pm).