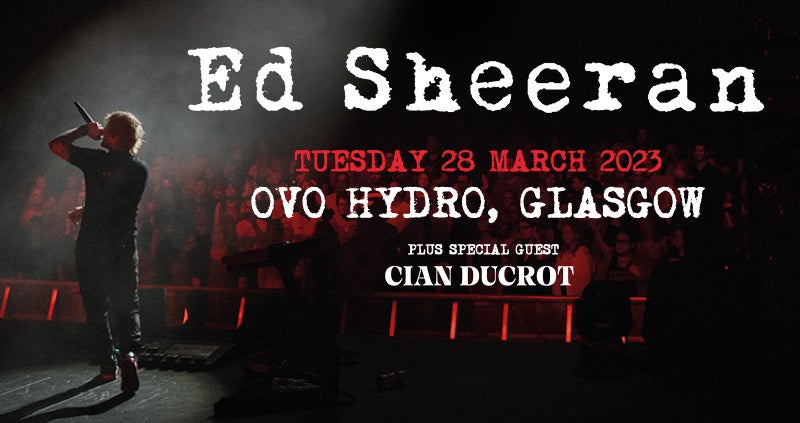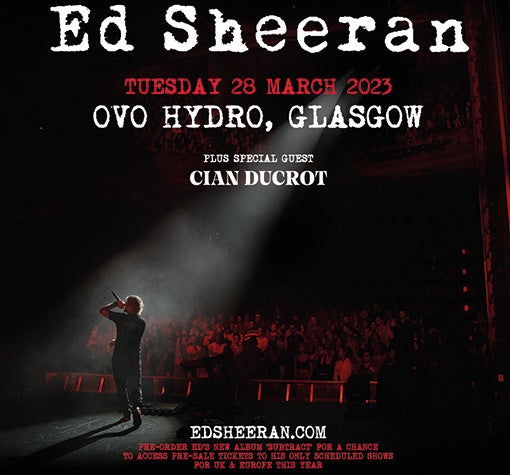 Ed Sheeran
Special Guest Cian Ducrot
28 Mar

/ 23

DOORS: 6.30pm

1830: Doors open | 1915: Event starts | 2230: Event finishes
*Event timings issued are a guideline only and may be earlier or later than originally published.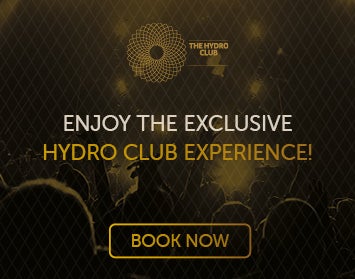 Following the announcement of his upcoming new album '-' (Subtract), Ed Sheeran has announced a select run of UK and European arena shows for March/April 2023, which take in Manchester, London, Glasgow, Dublin and Paris. Fans can pre-order the album before 9am on Tues 7 March via Ed's official website to gain early access to the ticket pre-sale. The only UK and European scheduled shows for 2023, Ed is set to play a host of fan favourites in addition to his yet-to-be-announced brand new single.
Ed Sheeran is set to release his new album '-' (Subtract) - the last in his decade-spanning mathematical album era - on 5 May 2023 through Asylum/Atlantic. An album that revisits Ed's singer/songwriter roots, and one that was written against a backdrop of personal grief and hope, '-' (Subtract) presents one of the biggest stars on the planet at his most vulnerable and honest.
Important SafeTix Information

Ticketmaster SafeTix are encrypted mobile tickets built with leading-edge technology, developed with you in mind, and come standard with powerful fraud and counterfeit protection.

You can view your tickets by following the below information:

Download the Ticketmaster App & enter your account credentials.
Click on your event.
You will see a barcode that continually refreshes.
Screenshots will not work. You must open the barcode in your account.
If you are gifting to someone, please use ticket transfer. Screenshots will not work.

Concerned about mobile phone service at events?

This ticket has you covered. Once you view it in our App, your ticket is automatically saved so is always ready.

For more information on mobile ticketing, please visit https://www.ticketmaster.co.uk/mobile-tickets

Important Ticket T&Cs

1 Your ticket(s) are digital tickets that will be delivered in the lead up to the show to the ticket vendor's app/wallet which you will be instructed to download to your smart device.

2 When arriving in groups, the lead booker must be present in order for the whole party to enter the venue. All members of the party should enter the venue at the same time.

3 In order for tickets to be valid, on arrival at the show the lead booker must be able to provide all of the following items alongside their ticket(s):

i) Photo ID (Driving licence, passport)

ii) Booking confirmation email

4 Your ticket purchase constitutes a personal, revocable license and, at all times, remains the property of the promoters.

5 Your ticket/s are sold by the promoters directly to you the consumer. All ticket purchases will be monitored and if there is a reasonable suspicion that tickets are being purchased by businesses traders or so called "ticket touts", "ticket scalpers", "ticket brokers" or unauthorised "secondary ticket agents" this will be considered a breach of the terms and conditions of sale and tickets could be cancelled at the promoter's discretion. By accepting these terms and conditions you confirm that you are a consumer.

6 Your ticket/s will IMMEDIATELY BECOME INVALID if resold OR OFFERED FOR SALE unless the sale is through Ticketmaster Resale. Tickets sold via third parties and other unauthorized outlets, including online auction sites, are not valid for admission. The resale of a ticket renders it invalid and may lead to refusal of entry.

7 Ticket sales are limited to a maximum of 6 per transaction.

8 Only tickets purchased through approved ticket agents are valid for admission. The venue reserves the right to refuse admission.

9 You will need to use a mobile smartphone to access tickets which will require an app to be downloaded to your device.

Digital Tickets

Your mobile is now your ticket.

Delivering the best purchase experience, digital tickets removes the inconvenience of visiting the box office in person or making a call to book. Purchase via ovohydro.com or sec.co.uk and your tickets will be delivered straight to your device, when available. Your tickets will be stored in your TM account and can be accessed via the TM mobile app.

No more worrying if tickets will arrive in the post or hoping you get them in time for that important gift. The stress of losing or forgetting your tickets will be replaced with the confidence of knowing that they are stored securely on your device and are available for you at any time.

Transfer tickets quickly and easily to all members of your party, giving you the freedom to plan your journey to the venue. No need for everyone to arrive together or wait for that friend who is held up.

For more information about digital tickets, please click here.

Accessible Ticket Booking

Customers who wish to buy tickets for accessible positions can do so online via our websites (ticketing powered by Ticketmaster), or by using our accessible booking line on 0141 576 3230 (replaces 0800 952 0110 temporarily) (open Mon-Fri 9am-2pm).
28 Mar / 23

£98.00
(inc admin fee) + fulfilment

Ticket limit: 6pp

Standing - 14+ | Seats - No under 5s / Under 14s accompanied by an adult