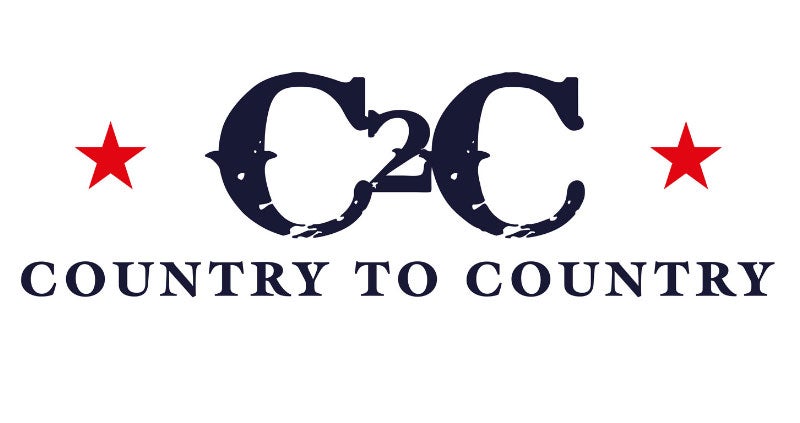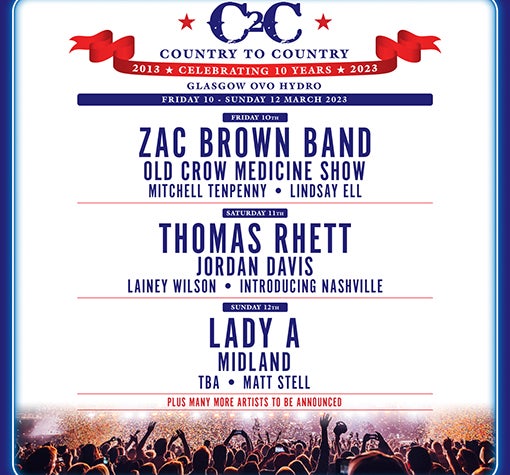 10 Mar

/ 23

Showtimes will be released approximately 3 days before the date of the event.

11 Mar

/ 23

Showtimes will be released approximately 3 days before the date of the event.

12 Mar

/ 23

Showtimes will be released approximately 3 days before the date of the event.
*Event timings issued are a guideline only and may be earlier or later than originally published.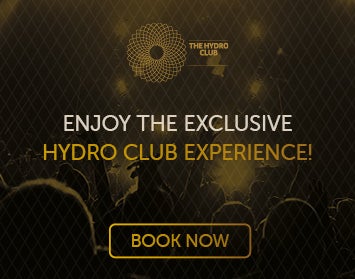 CELEBRATE 10 YEARS OF COUNTRY TO COUNTRY
10 TO 12 MARCH 2023
ZAC BROWN BAND - LADY A - THOMAS RHETT
OLD CROW MEDICINE SHOW – MIDLAND - JORDAN DAVIS
MITCHELL TENPENNY - LAINEY WILSON
LINDSAY ELL - MATT STELL - INTRODUCING NASHVILLE
And more special guests to be announced
Celebrating a decade of bringing country to the masses, C2C, Europe's biggest country music festival, is back for 2023!!!!!
Country to Country has established itself as the annual destination to see some of the world's best country artists and future stars. The festival is set to bring yet another incredible line up to the OVO Hydro, Glasgow from Friday 10 to Sunday 12 March 2023.
To celebrate 10 years of C2C, world-renowned superstars Zac Brown Band, Thomas Rhett and Lady A have been confirmed to headline 2023's festival. They will be joined by Nashville's hottest and most buzzed about artists Midland, Jordan Davis, Old Crow Medicine Show, Lainey Wilson and Mitchell Tenpenny alongside prolific performers Lindsay Ell and Matt Stell. CMA's international series Introducing Nashville also returns which sees exciting, emerging newcomers share the mainstage for an acoustic set, recalling stories behind their tracks. Further special guests will be announced soon.
In London the unstoppable Breland will open C2C on the Friday night and will co-host the festival across the weekend with the legendary Bob Harris OBE who said: "I am proud to have been the main stage compere at Country to Country in London since the inaugural event in 2013. It was an exciting and history-making moment and it's been incredible to see C2C get bigger and bigger every year since, to become the centrepiece of the Anglo/American Country calendar - the UK's biggest Country music weekend. It's an amazing story and I am thrilled and honoured to be hosting the artists on the main stage again in 2023. Even better, I'll be joined in the spotlight by my friend Breland, whose career has literally gone stratospheric since the release of his first music only three years ago. I cannot wait to see the incredible performers playing at the festival this year and I am so much looking forward to reuniting with the fabulous fans who make our Country Music community so special."
Since its inaugural event in 2013 headlined by Tim McGraw and Carrie Underwood at The O2 London, Country to Country has grown to a three-day multi-arena event featuring the best in country music and programming which fans have come to love and expect, with tens of thousands in attendance each year. Not only does C2C feature performances from the world's best country stars it also showcases the best of emerging talent from Nashville, UK and Europe.
Jack Dowling, C2C Festival Director said: "Country to Country is delighted to be bringing back the finest in US talent to the UK and Ireland. In our 10th year C2C keeps going from strength to strength. We'd like to thank our fantastic partners AEG Presents, the CMA and BBC Radio 2 who continue to help us deliver the best event and of course, more importantly our passionate fans. Country to Country would not be what it is without you. See you all for C2C 2023!"
Chris York, C2C Festival Co-Founder and Director at SJM Concerts commented: "As founder of C2C, it is incredible to see the event moving into its 10th year. A testament to the wonderful support of all artists, managers and agents who continue to believe in the power of country outside of North America. We have to thank our amazing event partners BBC Radio 2, the CMA and lastly the fans – who continue to drive the event forward and challenge us to keep moving forward. That's what makes doing this worthwhile."
"C2C is a tentpole event for our industry and our Country Music community." says Sarah Trahern, CMA Chief Executive Officer. "As we see Country Music continue to expand on a global scale, it's events like C2C that are pivotal in maintaining that forward momentum, promoting music discovery, broadening the fan base and demonstrating the growth of Country Music internationally. We are thrilled to be partnering with C2C again this year and look forward to the event in March!"
The C2C Spotlight Stage will also be back so watch out for news of the full line up in the coming months.
VIP Packages

C2C ULTIMATE FAN EXPERIENCE WEEKEND VIP PACKAGE

One premium reserved seat closest to the stage, to see C2C live for the whole weekend
A C2C commemorative gift, designed and created for VIP guests
A C2C Ultimate Fan Experience VIP laminate and lanyard
A C2C 2023 collectable pin badge set
Best seats in the first 6 rows for all 3 days

C2C INSIDER WEEKEND VIP PACKAGE

One premium reserved seat to see C2C live for the whole weekend
A C2C commemorative gift, designed and created VIP guests
A C2C Insider VIP laminate and lanyard
A C2C 2023 collectable pin badge set
Best floor seats in rows 7-11 rows or Best side seats for all 3 days

Digital Tickets

Your mobile is now your ticket.

Delivering the best purchase experience, digital tickets removes the inconvenience of visiting the box office in person or making a call to book. Purchase via ovohydro.com or sec.co.uk and your tickets will be delivered straight to your device, when available. Your tickets will be stored in your TM account and can be accessed via the TM mobile app.

No more worrying if tickets will arrive in the post or hoping you get them in time for that important gift. The stress of losing or forgetting your tickets will be replaced with the confidence of knowing that they are stored securely on your device and are available for you at any time.

Transfer tickets quickly and easily to all members of your party, giving you the freedom to plan your journey to the venue. No need for everyone to arrive together or wait for that friend who is held up.

For more information about digital tickets, please click here.

Accessible Ticket Booking

Customers who wish to buy tickets for accessible positions can do so online via our websites (ticketing powered by Ticketmaster), or by using our accessible booking line on 0141 576 3230 (replaces 0800 952 0110 temporarily) (open Mon-Fri 9am-2pm).

COVID-19 Customer Update

For more information on COVID safety measures in place and what can be expected when you attend events, please check here.
10 - 12 Mar / 23

Day tickets: £47.95- £127.70
Weekend tickets: £132.10 - £328.00
(inc admin fee) + fulfilment
Ticket limit: 6pp

All ages. Under 16s to be accompanied by adult over 18