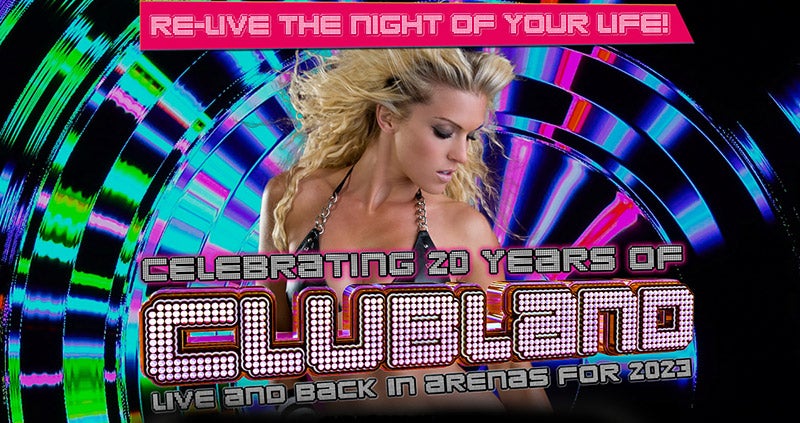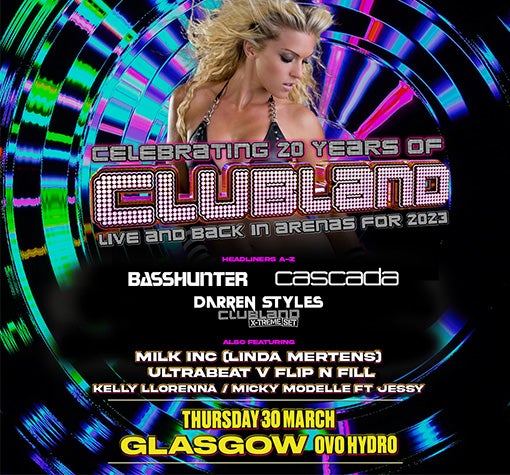 30 Mar

/ 23

DOORS: 6.30pm

Showtimes will be released approximately 3 days before the date of the event.
*Event timings issued are a guideline only and may be earlier or later than originally published.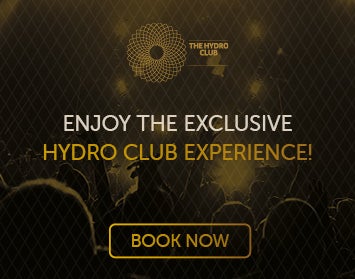 CLUBLAND ARENA TOUR 2023
Relive the Night of Your Life
Glasgow Line-up -
THURSDAY 30 MARCH – GLASGOW OVO HYDRO
Basshunter, Cascada, Darren Styles, Ultrabeat, FlipnFill, Keyes & Finchy, Jessy, Karen Parry, Kelly Llorenna, Linda Mertens (Milk Inc), Micky Modelle.
March 2023 sees the return of the legendary dance brand Clubland… back in UK arenas for the first time in over 10 years
Clubland began as a series of compilation albums in 2002 and was the umbrella brand for an entire movement of commercial dance music which spawned countless classic dance hits over the past 20 years with artists such as Cascada, Scooter, BassHunter and Ultrabeat amongst many, many more.
The various Clubland albums went on to sell in excess of 30 million copies over this period and became the market leader in dance music during this time – outselling established brands such as Ministry of Sound and Cream.
Clubland TV remains one of the most popular music channels on UK music TV – constantly bringing a unique mix of the both the classics and the new tunes to thousands of people everyday.
In 2008 Clubland Live was launched and played to tens of thousands of people across the UK in packed arenas – becoming the first time dance music headlined in such venues – there were a further 2 sold out tours over the next couple of years and are remembered by many as "The Night of Your Life".
Now… fast forward to 2022 and the opportunity is back to re-live the classic tunes, the party atmosphere and the Clubland experience with Clubland Live returning to UK arenas in 2023, featuring some of Clubland's biggest names and DJ's in a show which will bring all those amazing times back
With a fabulous, fast-moving 3-hour show you can guarantee an exciting return to the times when dance music produced the best tunes, incredible energy and an amazing feel-good factor– guaranteed to make you smile.
Important Attending Information

Please read this important event information before attending the event.

For your safety and enjoyment of the event please note the following:

Bags: please do not bring large bags. Bags over A3 size will not be allowed into the event.
Searching: full searching will be in operation. Anyone in possession of an illegal substance or harmful item will not get into the event. Search dogs will be in attendance.
Arrive early: get here in plenty time to queue, be searched and enter in time to enjoy the show. It can take up to 60 minutes for queuing, searching and ticket scanning.
Alcohol: know your limits. Anyone underage or over the limit will be refused entry or ejected from the event.
Drinks: do not leave your drink unattended.
Hydrate: water points will be available throughout the venue.
Welfare: if you feel unwell or unsafe please speak to a steward. The stewarding, medical and welfare teams on duty are there to help.
Official ticket outlets for this event were Ticketmaster, Ticketmaster Platinum & See Tickets. If you've purchased or received tickets from another source they may not be valid. For more information on spotting fake tickets you can visit www.star.org.uk/ticket-buying-advice

Digital Tickets

Your mobile is now your ticket.

Delivering the best purchase experience, digital tickets removes the inconvenience of visiting the box office in person or making a call to book. Purchase via ovohydro.com or sec.co.uk and your tickets will be delivered straight to your device, when available. Your tickets will be stored in your TM account and can be accessed via the TM mobile app.

No more worrying if tickets will arrive in the post or hoping you get them in time for that important gift. The stress of losing or forgetting your tickets will be replaced with the confidence of knowing that they are stored securely on your device and are available for you at any time.

Transfer tickets quickly and easily to all members of your party, giving you the freedom to plan your journey to the venue. No need for everyone to arrive together or wait for that friend who is held up.

For more information about digital tickets, please click here.

Accessible Ticket Booking

Customers who wish to buy tickets for accessible positions can do so online via our websites (ticketing powered by Ticketmaster), or by using our accessible booking line on 0141 576 3230 (replaces 0800 952 0110 temporarily) (open Mon-Fri 9am-2pm).
30 Mar / 23

£38.60 - £170.85

(inc admin fee) + fulfilment

STANDING: OVER 14s ONLY | SEATING: UNDER 14s WITH ADULT 18+