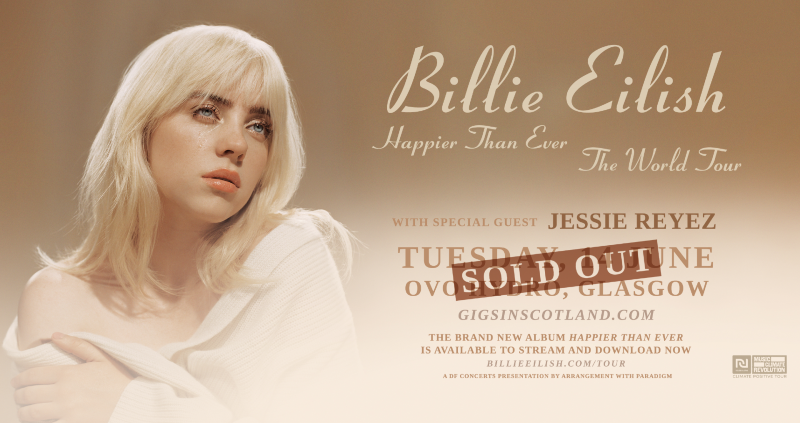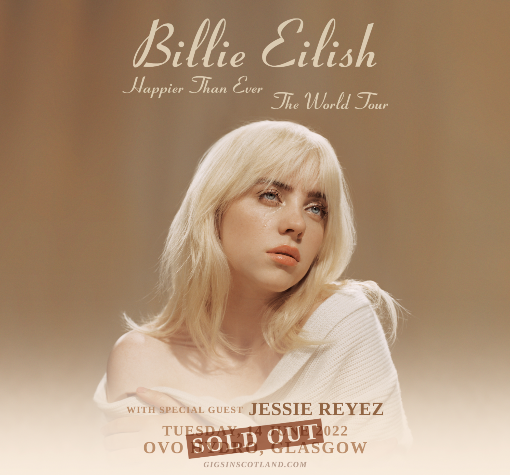 Billie Eilish
Happier Than Ever, The World Tour
14 Jun

/ 22

DOORS: 6.30pm

Showtimes will be released approximately 3 days before the date of the event.
*Event timings issued are a guideline only and may be earlier or later than originally published.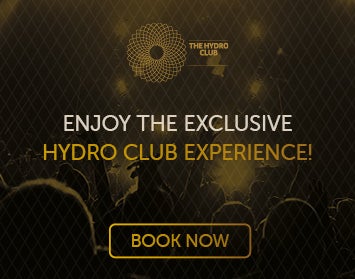 Following the release of her latest single 'Your Power,' and ahead of the July 30 release of her forthcoming album 'Happier Than Ever,' Darkroom/Interscope Records artist Billie Eilish has announced the first leg of her Happier Than Ever, The World Tour, set to commence in February 2022.
Starting February 3 in New Orleans, the 32-date North American arena run will be making stops across North America, before heading across the Atlantic for an 18-date arena tour across Europe and the United Kingdom, starting June 3.
The seven-time GRAMMY Award winning artist and songwriter has also confirmed she will be continuing her work with sustainability partner REVERB for her Happier Than Ever, The World Tour, with the fan-facing Billie Eilish Action Village at each show which will focus on climate action and climate justice, hosting and supporting BIPOC and women-led environmental organizations as well as a comprehensive program via REVERB's forthcoming Music Climate Revolution campaign. In addition to reducing the tour's environmental footprint, the initiative will support projects that directly and measurably eliminate greenhouse gases. These collective efforts will make the tour Climate Positive; eliminating significantly more emissions than the tour creates.
2021 has already been quite the year for 19-year-old Eilish whose latest single 'Your Power' debuted at #10 on the Billboard Hot 100, logging more than 150 Million streams in the first two weeks of release. Earlier this year, she took home two additional GRAMMY Awards; Record of the Year for "everything i wanted," and Best Song Written For Visual Media for her James Bond song "No Time To Die." In February, her groundbreaking documentary film, 'The World's A Little Blurry' -- directed by R.J. Cutler -- saw its Apple TV+ global release and received critical praise worldwide. Earlier this month, Billie Eilish made her book debut with BILLIE EILISH, a stunning visual narrative journey through her life. Published by Grand Central Publishing (GCP), the book features hundreds of never-before-seen photos, and captures the essence of Billie inside and out, offering readers personal glimpses into her childhood, her life on tour, and more.
COVID-19 Customer Update

For more information on COVID safety measures in place and what can be expected when you attend events, please check here.

Important Ticket Information

Ticket price includes a £1 donation to REVERB, a not for profit organisation tackling environmental issues in music. https://reverb.org/

Please note: The SEC Box office is temporarily closed. We are currently processing all ticket purchases online rather than at the SEC Box Office for the foreseeable future.

Accessible tickets can be booked online, or you can call 0141 576 3230 (replaces 0800 952 0110 temporarily) (open Mon-Fri 9am-2pm).

Digital Tickets

Your mobile is now your ticket.

Delivering the best purchase experience, digital tickets removes the inconvenience of visiting the box office in person or making a call to book. Purchase via OVOhydro.com or sec.co.uk and your tickets will be delivered straight to your device, when available. Your tickets will be stored in your TM account and can be accessed via the TM mobile app.

No more worrying if tickets will arrive in the post or hoping you get them in time for that important gift. The stress of losing or forgetting your tickets will be replaced with the confidence of knowing that they are stored securely on your device and are available for you at any time.

Transfer tickets quickly and easily to all members of your party, giving you the freedom to plan your journey to the venue. No need for everyone to arrive together or wait for that friend who is held up.

For more information about digital tickets, please click here.

Terms & Conditions

1. This event is for fans only and these special conditions are in place to ensure that tickets are purchased for personal use only and are not resold for profit and/or through unauthorised resale sites.

2. A strict limit of 4 tickets per person (and per household) per event during presale and 6 tickets per person (and per household) per event after general onsale applies. Any tickets purchased over this limit may be cancelled and invalidated (in which case you will be refunded).

3. Tickets must not be purchased with the intention of reselling them for commercial purposes and/or profit.

4. Only genuine mobile tickets will be accepted for entry (we'll give you full instructions on how to access your mobile tickets after you book). If you purchased more than one ticket and ticket transfer is unavailable, your guests must be with you at time of entry. Print outs and/or screenshots of mobile tickets will not be accepted for entry.

5. If you can no longer use your tickets and your tickets are not eligible for an exchange or refund, you may resell them through authorised resale sites (Ticketmaster Fan to Fan).

6. You may not resell or offer to resell tickets for this event through any unauthorised resale site such as Viagogo or Stubhub, or for commercial purposes and/or profit.

7. Any tickets purchased, resold or offered for resale in breach of these special conditions may be cancelled and invalidated (in which case you will be refunded).

8. In the event of any inconsistency between these special conditions and any other applicable terms and conditions, these special conditions will apply.

Accessible Ticket Booking

Customers who wish to buy tickets for accessible positions can do so online via our websites (ticketing powered by Ticketmaster), or by using our accessible booking line on 0141 576 3230 (replaces 0800 952 0110 temporarily) (open Mon-Fri 9am-2pm).
14 June / 22

£46.60 - £98.80

(inc admin fee) + fulfilment

Ticket limit: 6 per person

Standing: Over 14s / Under 16s with adult, Seating: Over 8s / Under 16s with adult