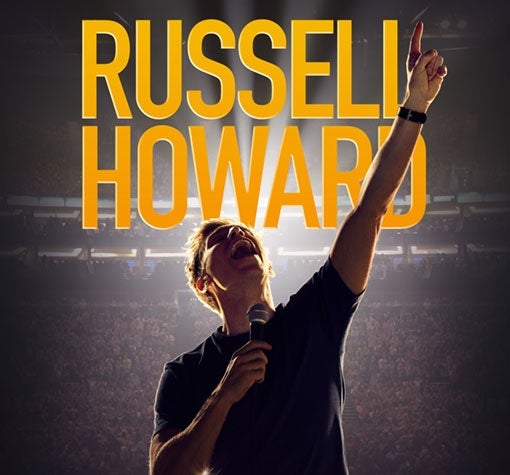 Mar 21, 2023
On This Day: Russell Howard (2017)
Russell Howard has become one of the nation's favourite comedians, as well as a TV and radio presenter, he is one of the best-selling acts in British stand-up. The funnyman performed at the OVO Hydro on 21 March 2017 as part of his 'Round The World Live Tour'. We take a look back at Russell's successful career and our pick of his top 10 jokes and one liners.
The comedian began on the circuit in his teens, before reaching a wider audience on the back of his regular slot on BBC's hit show Mock The Week. Since then, he has appeared on several other comedy shows, such as '8 Out of 10 Cats', 'Would I Lie to You' as well as 'Live at the Apollo'.
Russell went on to have huge success with his own comedy show Russell Howard's Good News. The show first aired in October 2009 and became BBC Three's highest ever rating entertainment series.
In December 2015, Howard made his acting debut in BBC Two's comedy-drama A Gert Lush Christmas, which he also co-wrote. In October 2016, he released a travel documentary series called Russell Howard & Mum, where he travelled through America with his mum Ninette. In 2017, Russell started a 14-part weekly comedy series - The Russell Howard Hour on Sky One, as part of a two-year deal.
Other than comedy and acting, Howard is also a huge football fan, being an avid supporter of Liverpool Football Club. Before he became a full time comedian, he used to play for Basingstoke Town Football Club. He's also known for his charitable works, he previously ran the London Marathon to raise money for the Epilepsy Society, and he took part in the BT Sport Relief Million Pound Bike Ride along with other celebrities.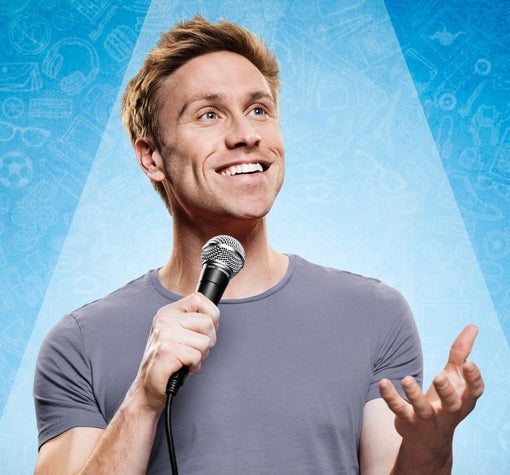 Our Pick of Russell Howard's Top 10 Jokes and One Liners
1. She's 80 my nan, what do you want for your birthday? "SHREDDER!! GET ME A SHREDDER!!", what do you want a shredder for? "IDENTITY THEFT!!".
2. I'm the munter of my friends. I've got wonky teeth and a lazy eye. My friend Rob is disgusted I'm a heart-throb.
3. Music is the best thing we do as humans, isn't it? Music, I mean you flail your limbs, makes you move in a way you don't understand. Or it can make you weep like a sailor's wife staring at a storm.
4. Inner child, what do you suggest? 'I WANT A TREEHOUSE!' Anything else to add? 'FARTY NOISE UNDER THE ARM!"
5. What's the opposite of opposite? Consider yourself bamboozled!
6. Some graffiti is amazing. I was driving along the other day, and there was a big sign saying 'STOP', and underneath someone had written, 'Hammertime!'"
7. When you're three, you're into custard, and jumping.
8. I like the authentic punk dance you did there. It's like a child dizzy off lemonade.
9. 'Come back here, I'm a police officer!' and I shouted back 'No you're not! You're a monster!'
10. Chefs who cook unhealthy meals will have their shows pushed to after the 9pm watershed. Warning: the following programme contains butter, and scenes of a sugary nature.
If we've got you in the mood for some top-class comedy, take a look at the amazing talent we've got coming up in our Comedy Calendar blog
Comedy Calendar

Never Miss Out - Sign Up To Our Newsletter

Newsletter Sign-Up