Drop-Off / Pick-Up
The OVO Hydro drop-off/pick-up zone is located at the west of SEC Centre, as shown on the map below.
The drop-off/pick-up zone is accessible via Stobcross Road. You can plan your arrival using google maps by clicking here.
Why use the drop-off/pick-up zone?
It's a free service!
Designated, manned area to drop-off & pick-up.
Safe, covered walking route through SEC Centre.
Up to 30 minutes stay – allowing you time to accompany friends/family to and from an event.
Access to facilities – Male/Female/Accessible toilet, baby changing, ATM cash machines, Box office.
Available from 30 minutes before doors open.
Clydebuilt Bar & Kitchen – offering a range of food & drinks.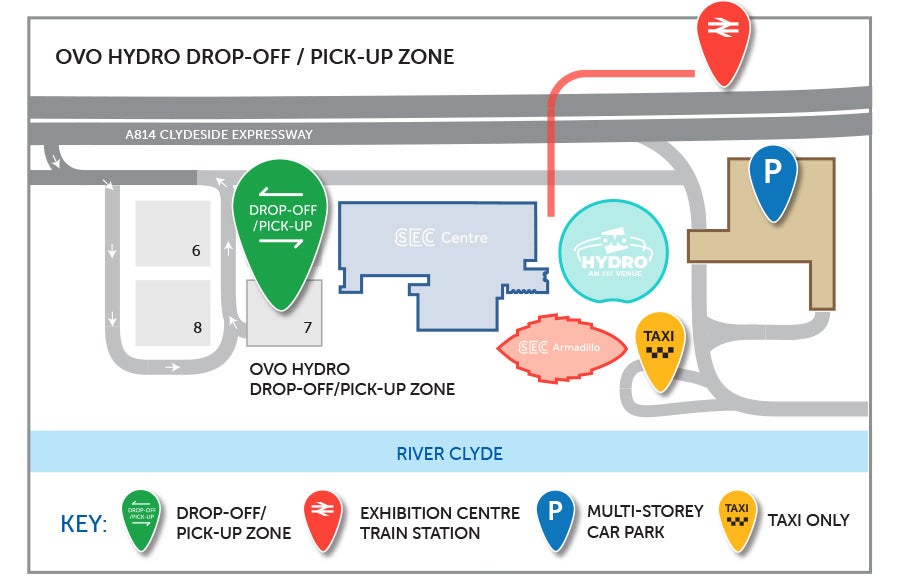 Drop-off/pick-up accessibility
The drop-off/pick-up zone runs an accessible transfer service to the OVO Hydro, dropping off within 130m of the OVO Hydro south main entrance
Accessible toilets are available within 50 metres of the drop-off/pick-up zone.
Long term parking/accessible parking: All longer term parking must be in the multi-storey car park located on Finnieston Street. Adjacent to the OVO Hydro
OVO Hydro, SEC,
Glasgow Scotland G3 8YW
Car
Bike
Train
Walking
Plane
Bus
Boat
Taxi
Pickup / Drop-off
Landmarks