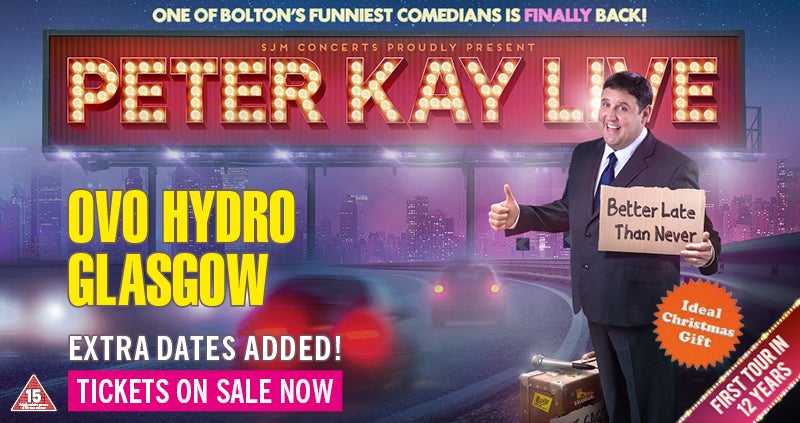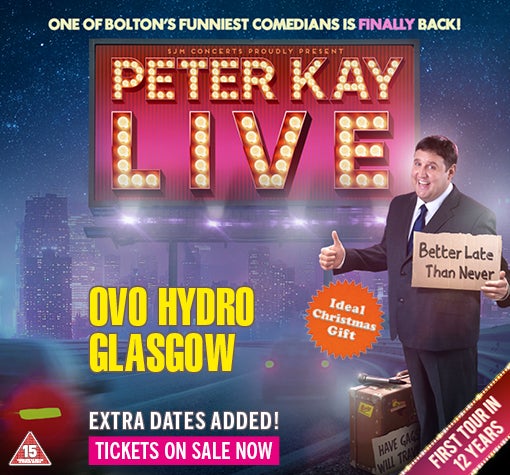 5 May

/ 23

BSL Performance - Start 8pm prompt

6 May

/ 23

Start 8pm prompt

18 Apr

/ 25

Start 8pm prompt

19 Apr

/ 25

Start 8pm prompt

*Event timings issued are a guideline only and may be earlier or later than originally published.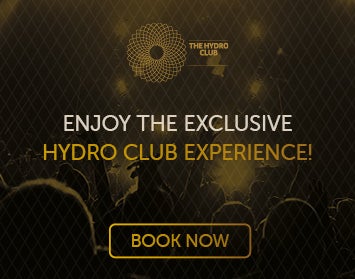 PETER KAY LIVE
EXTRA DATES ADDED FOR 2023 AND BEYOND
Following the announcement of a nationwide arena tour and a record-breaking monthly residency at The O2, London; one of Britain's best loved comedians, Peter Kay has announced extra dates for 2023 and beyond…
The extra dates include shows in Birmingham, Glasgow, Leeds, Manchester, Newcastle, Sheffield and more.
With an astonishing 28th show added to the London residency at The O2.
Additionally, there will be British Sign Language (BSL) interpreted performances on selected dates.
"It's good to get back to what I love doing best, stand-up comedy and if there's ever a time people need a laugh it's now"
"And with the cost of living at an all-time high, ticket prices are starting from £35. The same price they were on my previous tour in 2010"
Peter's 2010 tour still officially ranks with the Guinness Book of World Records as the biggest selling comedy tour of all time.
Playing to over 1.2 million people.
Important Event Information

Please be seated in plenty of time for a prompt show start at 8pm.
Bars will remain open until the start of the second half of the show.
Enjoy the full experience, don't record the performance. Avoid Filming/photographing the performance.

Digital Tickets

Your mobile is now your ticket.

Delivering the best purchase experience, digital tickets removes the inconvenience of visiting the box office in person or making a call to book. Purchase via OVOhydro.com or sec.co.uk and your tickets will be delivered straight to your device, when available. Your tickets will be stored in your TM account and can be accessed via the TM mobile app.

No more worrying if tickets will arrive in the post or hoping you get them in time for that important gift. The stress of losing or forgetting your tickets will be replaced with the confidence of knowing that they are stored securely on your device and are available for you at any time.

Transfer tickets quickly and easily to all members of your party, giving you the freedom to plan your journey to the venue. No need for everyone to arrive together or wait for that friend who is held up.

For more information about digital tickets, please click here.

Accessible Ticket Booking

Customers who wish to buy tickets for accessible positions can do so online via our websites (ticketing powered by Ticketmaster), or by using our accessible booking line on 0141 576 3230 (replaces 0800 952 0110 temporarily) (open Mon-Fri 9am-2pm).

VIP Package

Peter Kay Live – Best Seat Ticket Package

£135 + fees

Top price seated ticket for the show
Limited edition Peter Kay gift
Peter Kay show programme
Peter Kay VIP laminate and lanyard
05 May - 19 Apr / 25

£41.45 - £73.20

(inc admin fee) + fulfilment

Ticket limit: 10 per person

Strictly 15+
Don't miss out
Be the first to know about new shows, ticket releases and special offers at the OVO Hydro.