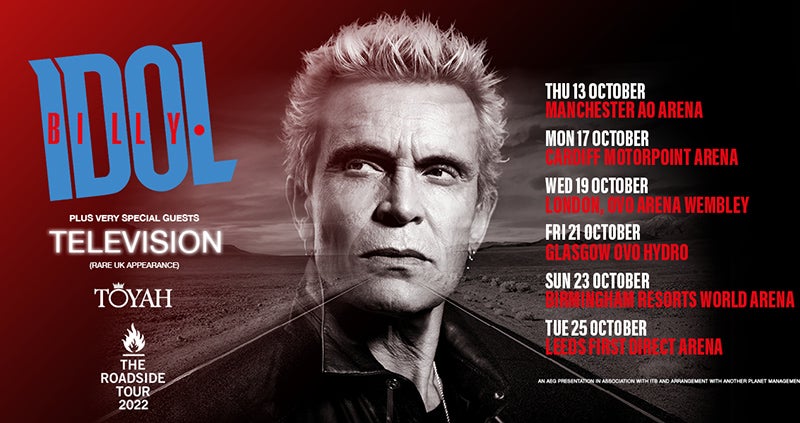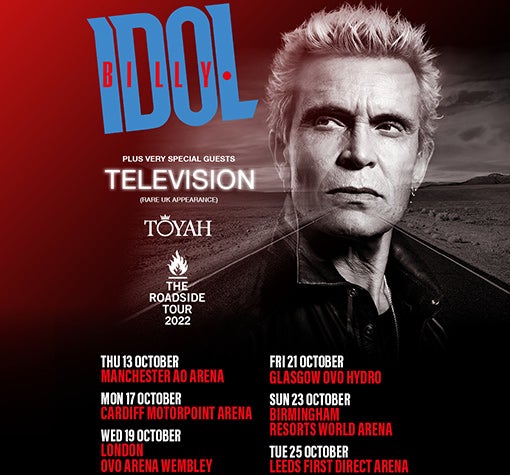 Billy Idol
The Roadside Tour
21 Oct

/ 22

DOORS: 6.30pm

Showtimes will be released approximately 3 days before the date of the event.
*Event timings issued are a guideline only and may be earlier or later than originally published.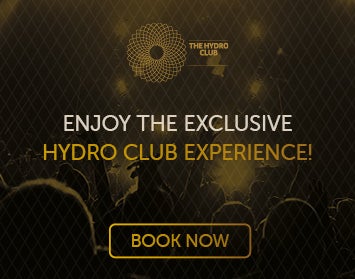 Billy Idol, originally scheduled to play the OVO Hydro on 11 June 2022, will now take place on 21 October 2022 with very special guests Television. Original tickets remain valid for this new date.
The world's favourite rebel Billy Idol has rescheduled The Roadside Tour 2022 with new dates now set for October 2022. All existing tickets are still valid for the revised dates.
Says Billy Idol: "As many of you know, this year has dealt me some health challenges which are nearly, but not quite resolved. While my recovery is almost complete, I have been given doctor's orders to stay off the road until August - and so it is with great frustration that we must reschedule the UK Tour for October of this year. Thank you for everyone's understanding and support. These shows will be worth the wait!"
Supporting Billy Idol, and replacing The Go-Go's on the original dates, are very special guests Television including original frontman Tom Verlaine.
Says Billy Idol: "Sadly, The Go-Go's are no longer able to join us. I am thrilled to share that now opening all UK shows will be Television, one of my favourite bands from the original New York punk scene and an inspiration to me throughout my career. I will be honoured to share the stage with them and hope everyone will come early to enjoy their set!"
The global lockdown of 2020 gave Billy time to reflect and thoughts turned to his near-fatal motorcycle accident of 1990, how he dealt with it and how it related to the current crisis. "It seemed quite logical and natural to write something about my motorcycle accident," he says. "I may have been saying, well, this is what people go through when they are in trouble. I think I was unconsciously making that connection.
"Certainly, the motorcycle accident was the catharsis, the wake-up moment. A little bit of me got left by the side of that road. Maybe I left behind the irreverent, youthful Billy and opened the door for a more attentive father and more sensitive musician. Something did get left by the roadside, but it was not necessarily a bad thing in the end."
Billy's reflections are captured in the lyrics of Bitter Taste, one of four tracks on his 2021 EP The Roadside, which was his first new music for seven years and as hard-hitting and relevant as ever.
Billy's touring band features his long-time guitarist and collaborator Steve Stevens along with Stephen McGrath (bass, backing vocals), Billy Morrison (guitar, backing vocals), Paul Trudeau (keyboards, backing vocals) and drummer Erik Eldenius.
Important Ticket Information

Please note: The SEC Box office is temporarily closed. We are currently processing all ticket purchases online rather than at the SEC Box Office for the foreseeable future.

Accessible tickets can be booked online, or you can call 0141 576 3230 (replaces 0800 952 0110 temporarily) (open Mon-Fri 9am-2pm).

COVID-19 Customer Update

For more information on COVID safety measures in place and what can be expected when you attend events, please check here.

Digital Tickets

Your mobile is now your ticket.

Delivering the best purchase experience, digital tickets removes the inconvenience of visiting the box office in person or making a call to book. Purchase via OVOhydro.com or sec.co.uk and your tickets will be delivered straight to your device, when available. Your tickets will be stored in your TM account and can be accessed via the TM mobile app.

No more worrying if tickets will arrive in the post or hoping you get them in time for that important gift. The stress of losing or forgetting your tickets will be replaced with the confidence of knowing that they are stored securely on your device and are available for you at any time.

Transfer tickets quickly and easily to all members of your party, giving you the freedom to plan your journey to the venue. No need for everyone to arrive together or wait for that friend who is held up.

For more information about digital tickets, please click here.

Accessible Ticket Booking

Customers who wish to buy tickets for accessible positions can do so online via our websites (ticketing powered by Ticketmaster), or by using our accessible booking line on 0141 576 3230 (replaces 0800 952 0110 temporarily) (open Mon-Fri 9am-2pm).
21 Oct / 22

Rescheduled from 11 June 2022

£55.15 - £80.10

(inc admin fee) + fulfilment

Ticket limit: 6 per person

Under 14s with adult (no under 5's)