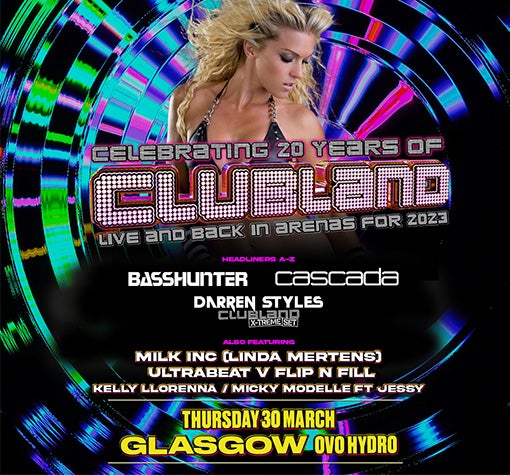 Mar 24, 2023
Spotlight on Clubland: Are you ready to relive the night of your life?
March 2023 sees the return of the legendary dance brand Clubland… back in UK arenas for the first time in over 10 years.
If you're in the mood to dance the night away to some of your favourite classic dance hits, Clubland Live is the event you've been waiting for! Relive the night of your life as the Clubland arena tour returns to celebrate 20 years of providing top-class dance tunes and live events. Get your tickets now for Thursday 30th of March at the OVO Hydro.
The line-up for Glasgow 2023 could be the best one yet! Don't miss Clubland queens Cascada and Kelly Llorenna, Swedish powerhouse Basshunter, hardcore legend Darren Styles, Ultrabeat, Flip n Fill, Micky Modelle, and MORE.
Clubland began as a series of compilation albums in 2002 and was the umbrella brand for an entire movement of commercial dance music which spawned countless dance classics over the past 20 years.

In 2008, Clubland launched its own TV channel which remains one of the most popular music channels on UK music TV. In the same year, Clubland Live was launched, and played to tens of thousands of people across the UK in packed arenas – becoming the first time dance music headlined in such venues.

Fast forward to 2022 and the opportunity is back to reminisce the good old days with the full Clubland experience, featuring some of the biggest names and DJ's in a show that will bring all those amazing times back for a night out to remember!
To get you in the mood, why not listen to some Clubland classic hits.
Be the first to know!
Get all the latest show announcements, extra dates and ticket releases for upcoming shows, special ticket offers and promotions straight to your inbox.