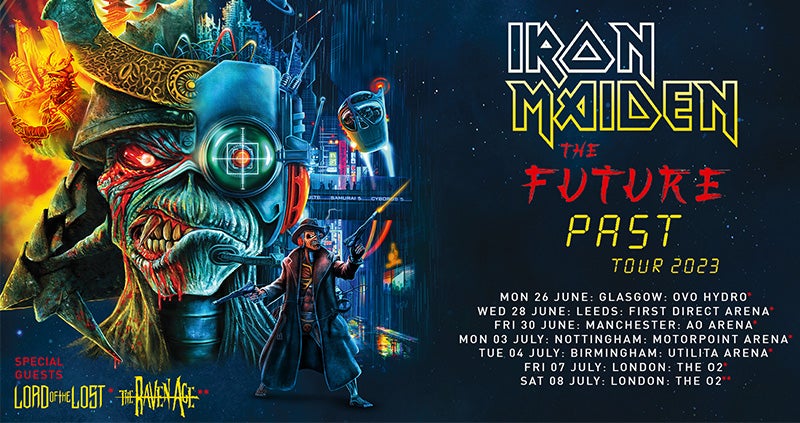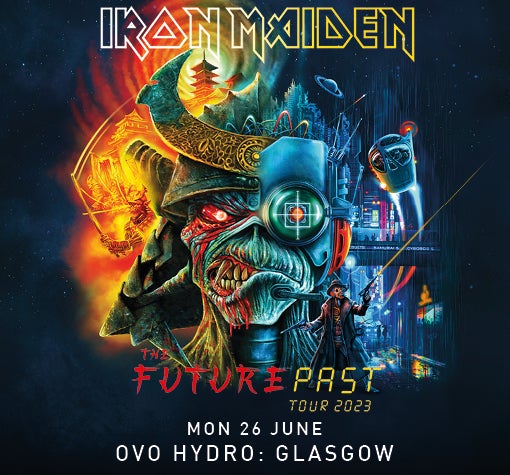 Iron Maiden
Special Guests Lord of the Lost
26 Jun

/ 23

DOORS: 6.30pm

Showtimes will be released approximately 3 days before the date of the event.
*Event timings issued are a guideline only and may be earlier or later than originally published.
IRON MAIDEN will be bringing a new tour to Europe in the Summer of 2023 including arena shows in the UK & Ireland. THE FUTURE PAST TOUR will feature previously unperformed songs from the band's most recent studio album, Senjutsu along with a focus on 1986's iconic Somewhere In Time record, plus other classic cuts.
Says founder member and bassist Steve Harris,
"Following the release of our latest album, Senjutsu, we updated the current Legacy of the Beast Tour a little by opening the show with the first 3 songs from it, with the Japanese Palace stage set. As it doesn't make a lot of sense to repeat this for a Senjutsu album tour, we thought about other options and we've decided to revisit Somewhere In Time as that tour didn't feature in the various retrospective history tours we've played over the years. They were based on our 80's concert videos and sadly we did not film that tour (blame the manager!!). We have had lots of requests from fans over the years for many tracks on it so we are now going to play them, plus of course a few others we know you will like! It will also be particularly satisfying to finally get to play some of the more epic tracks on Senjutsu, it's been a long wait! 2023 is going to be an exciting time and we're really looking forward to seeing everyone again in the UK, Ireland and around Europe".
Manager, Rod Smallwood adds,
"This combination of the two albums we feel is very exciting. We know fans want to hear those epic cuts on Senjutsu for the first time live and we think that by combining it with an iconic album like Somewhere In Time it will make for another really special tour for fans old and new! Of course, for a new album tour in Europe and the UK we will go back largely to the relative intimacy of arenas and we know fans will be very happy about that too!"
The band are currently in North America in the final stages of their spectacular Legacy Of The Beast World Tour, interrupted for two years by Covid with many shows rescheduled twice. The tour actually started in Tallin, Estonia in May 2018, the first of 139 shows in 33 countries. By the last show in Tampa, Florida on Oct 27 this year the band will have played to over THREE MILLION fans on this epic world tour.

Accessible Ticket Booking

Customers who wish to buy tickets for accessible positions can do so online via our websites (ticketing powered by Ticketmaster), or by using our accessible booking line on 0141 576 3230 (replaces 0800 952 0110 temporarily) (open Mon-Fri 9am-2pm).

Digital Tickets

Your mobile is now your ticket.

Delivering the best purchase experience, digital tickets removes the inconvenience of visiting the box office in person or making a call to book. Purchase via ovohydro.com or sec.co.uk and your tickets will be delivered straight to your device, when available. Your tickets will be stored in your TM account and can be accessed via the TM mobile app.

No more worrying if tickets will arrive in the post or hoping you get them in time for that important gift. The stress of losing or forgetting your tickets will be replaced with the confidence of knowing that they are stored securely on your device and are available for you at any time.

Transfer tickets quickly and easily to all members of your party, giving you the freedom to plan your journey to the venue. No need for everyone to arrive together or wait for that friend who is held up.

For more information about digital tickets, please click here.

Ticket Purchase T&Cs

This event is for fans only and these conditions ensure tickets are purchased for personal use and not resold for profit or through unauthorised resale sites.
Any tickets purchased, resold or offered for resale in breach of these conditions may be cancelled.
A limit of 6 tickets per person and per household applies per event. Any tickets purchased over this limit may be cancelled.
This ticket is a personal, revocable license and at all times remains property of the Promoters. It must be surrendered to the Promoters upon request.
Only tickets purchased through approved agents are valid. The venue reserves the right to refuse entry.
Only genuine mobile tickets will allow entry. If ticket transfer is unavailable, any guests must be with you at time of entry. Print outs or screenshots of mobile tickets will not be accepted.
If you can no longer use your tickets you may resell through Ticketmaster Fan to Fan Exchange.
You may not resell or offer to resell tickets through any unauthorised resale site such as Viagogo or Stubhub, or for commercial purposes or profit. For a list of authorised resale sites visit the Event page at www.livenation.co.uk
All ticket sales data will be forensically examined and evidence of use of aggressive software, multiple identities or any other unlawful practice will be passed to National Trading Standards E-crime team and Police.
Admission is subject to any terms, conditions or rules of the Promoter and venue. You must adhere to the Promoter or venue's terms and protocols re: Covid-19 – this could be, without limitation, providing negative lateral flow tests or vaccination certificates. If you do not comply, the Promoter or venue may refuse admission or require you or other ticket holders to leave and you will not be entitled to a refund.
These conditions will take precedence over any conflicting terms.
26 June / 23

£62.45 - £81.15
(inc admin fee) + fulfilment

Ticket limit: 6 per person


Standing - Over 14s / U16s with adult | Under 14s must be seated and accompanied by an adult over 18.